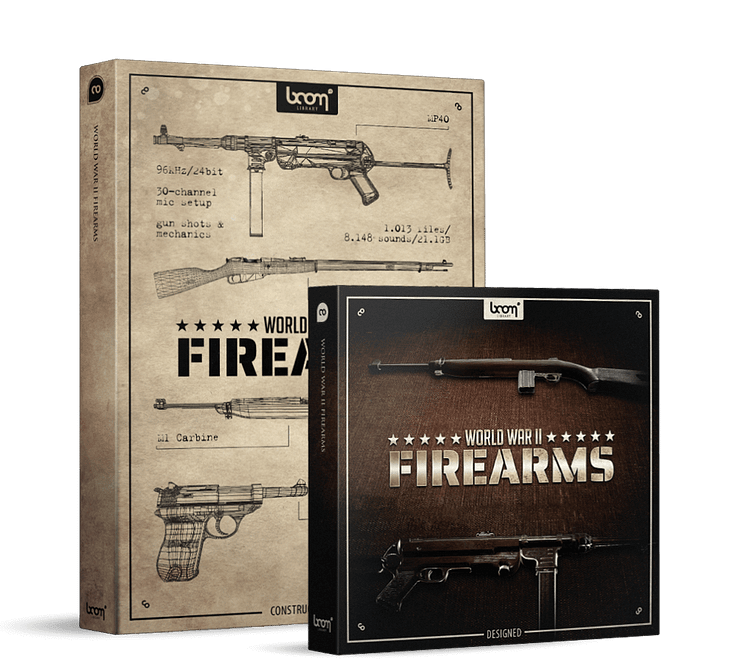 WORLD WAR II FIREARMS

The sound of classic guns from every angle
---
World War II is possibly the darkest era of mankind, leading to uncountable unnecessary deaths and changing the political landscape of the world forever. In general, it was a completely new form of warfare, where new weapons were created and older weapons upgraded and modernized. The period has captured the minds and imaginations of people ever since then, with Nazis standing in for villains in not just World War II films, but also in Marvel Comics, Indiana Jones, and so on. As such, there is always a need for accurate representation of the sounds of the weapons used in all these games, films, documentaries, multimedia presentations, and more.
WORLD WAR II FIREARMS was an ambitious project. There are other World War II libraries out there, but we wanted to craft the biggest and most useful library at the highest quality possible, which were undoubtedly high bars to meet.
ON LOCATION
Our aim was to record the most common firearms used during the period, which included guns like the MG42, M1 Carbine, Thompson, Sten gun, Kar98K, Walther PPK, and more. What made our search truly challenging is that we wanted only authentic period weapons and ammo, no reproductions.
We luckily stumbled upon two gun shops that were able to provide us with all the items on our shopping list. We then scouted for a good recording location: A gravel pit on the top of a hill next to a forest. This ensured that the gun tails – the outdoor reverb of the gun shot – went down the mountain and along the forest in a sonically interesting, but still flexible, way.
We shot these in the winter, which meant it was super cold and we didn't have much daylight to work with. We also had to contend with airplanes and any other number of audio-interference, like the birds – sounds easily removed with our DEBIRD tool. The perfect shots took a lot of patience and lots of warming up with hot chocolate, but we managed it.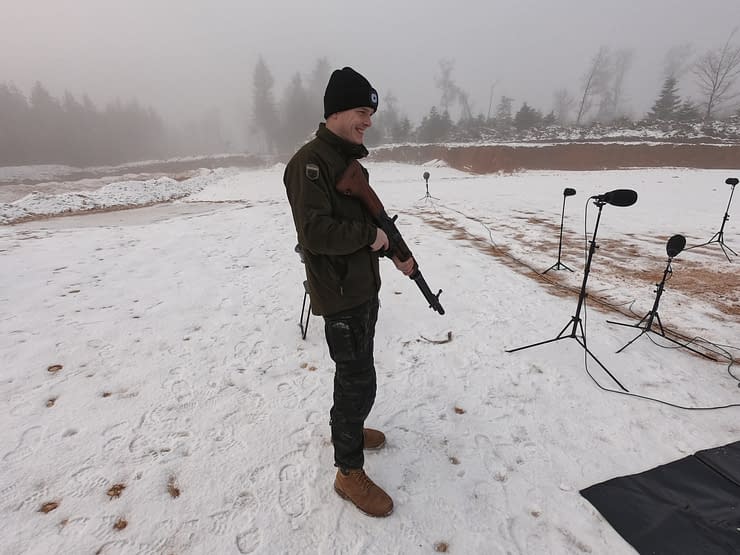 SCULPTING THE SOUND
It's one thing to have a great location, but it's another thing to actually take advantage of that location. We set up an array of microphones in various positions, from wrist and collar mics, to front, side, and behind mics that were set up in close range and all the way to 100 meters out.
In this fashion, we were able to record 30 different channels for each gun shot. That means you can have weapons fired in different positions in relation to the point of view, represented with unbeatable accuracy – and you can mix them together for just about any use scenario. Imagine what this would mean when designing the sound for a First Person Shooter, for example.
THE CONSTRUCTION KIT
The Construction Kit contains all the different elements you would need to design your full sound. From the gun noises, to the 30 different microphone position channels. This is where you'd go for the fully customizable experience.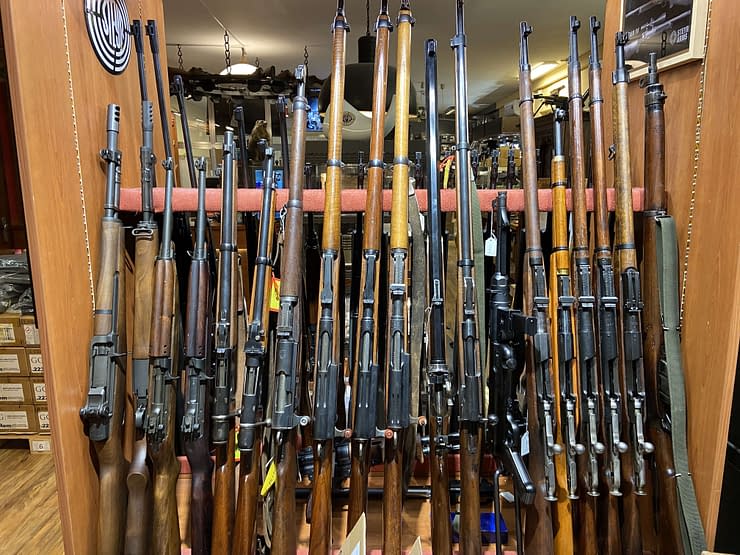 THE DESIGNED KIT
The Designed Kit takes the different elements from the Construction Kit, adds effects, and ensures a product that you can simply drag-and-drop the sounds into your project without worrying about editing anything else. We want to give the user carefully crafted gun designs to be able to use them in any given media. The different types of gun shots gives the user a wide spectrum of gunshot characters. The mechanics complete the picture so that most of the sounds you would need to implement a gun into a game, for example, is already given within the designed kit. The shot types include Modern Shots, Mechanical Shots, Punch Shots, Weapon Mechanics Mag In/Out and Weapon Mechanics Cocking/Dryfire.
A NEED FOR WEAPONS SOUNDS
These sounds can be used in just about any media, and these guns feature very commonly needed sounds for video games, films, and documentaries. If you find yourself doing sound design in these areas, then this is a definite must-have library. Check it out today!
Make sure to order WORLD WAR II FIREARMS by February 23rd to benefit from our special offer!
WHAT OUR CLIENTS THINK ABOUT
MONSTERS & BEASTS