MAKING THE DR!FT SOUND
How BOOM Library designed the sound for this unique hybrid gaming concept
Imagine a Porsche 911 surging past a BMW M3, only to skid to the edge of your table as the Beamer rights itself and whizzes for the next lap around your kitchen utensils. The two cars perfectly perform advanced driving maneuvers as you control the roaring engines from your mobile phone. As they skid and accelerate, the engines and sounds perfectly model reality, pulling you into the world of the racer.
That's the idea behind DR!FT, a new car gaming concept from Sturmkind. DR!FT is a "hybrid gaming concept that uniquely combines mobile gaming with real vehicles which extend a racing simulation into the real world," explains founder Martin Müller. They design and hand craft every car on their line in Germany, and offer a whole line of turbo cars, from the classic beauties like a BMW M3 and Porsche 911, to the roaring beasts like Nissans or our own turbo design, as well as a whole array of various accessories, such as tabletop racing maps, decals, and props.
Since their launch in 2017, around 100,000 vehicles have been sold with almost as many gamers filling their houses with the sounds and commotion of the racing cars. Fans have formed clubs and hold regular competitions and meetings both locally and online, aided by their active forum on their website.
"The illusion of having a miniaturized vehicle in front of you, that despite its tiny size, drives exactly like a race car in the real world is only perfect with proper sound," Martin says. "Gaming is all about emotions, and in DR!FT, those emotions are created by the super-realistic driving behavior and through the sound that goes with it. We had to not only perfectly simulate the driving physics, but also the sounds." To this end, we were approached to bring the cars to life and carve out just the right roaring engine and squealing tire sounds for DR!FT.
Our sound designers, Axel Rohrbach and Patrice Börding, set to the task.
FINDING THE RIGHT PLACE
Of course, recording cars isn't a simple job. It's impossible to just drive a car into our recording studios, and you can't record it on the street or in a garage, since the acoustic and ambient properties wouldn't allow us to have such control over the sound. To do the recording, Axel and Patrice needed a neutral acoustic environment. Axel searched through Germany and found a semi-anechoic chamber – that is, a large, acoustically treated room.
Semi-anechoic chambers are often used in the automotive industry to test how much noise the vehicles are making. They're usually connected to a car manufacturer, but Axel managed to find a privately available one, which was also stocked with a chassis dynamometer. "There's a roller in the ground and you place the front wheels or the back wheels on it," Patrice describes it. "The roller is then moving and simulating the street."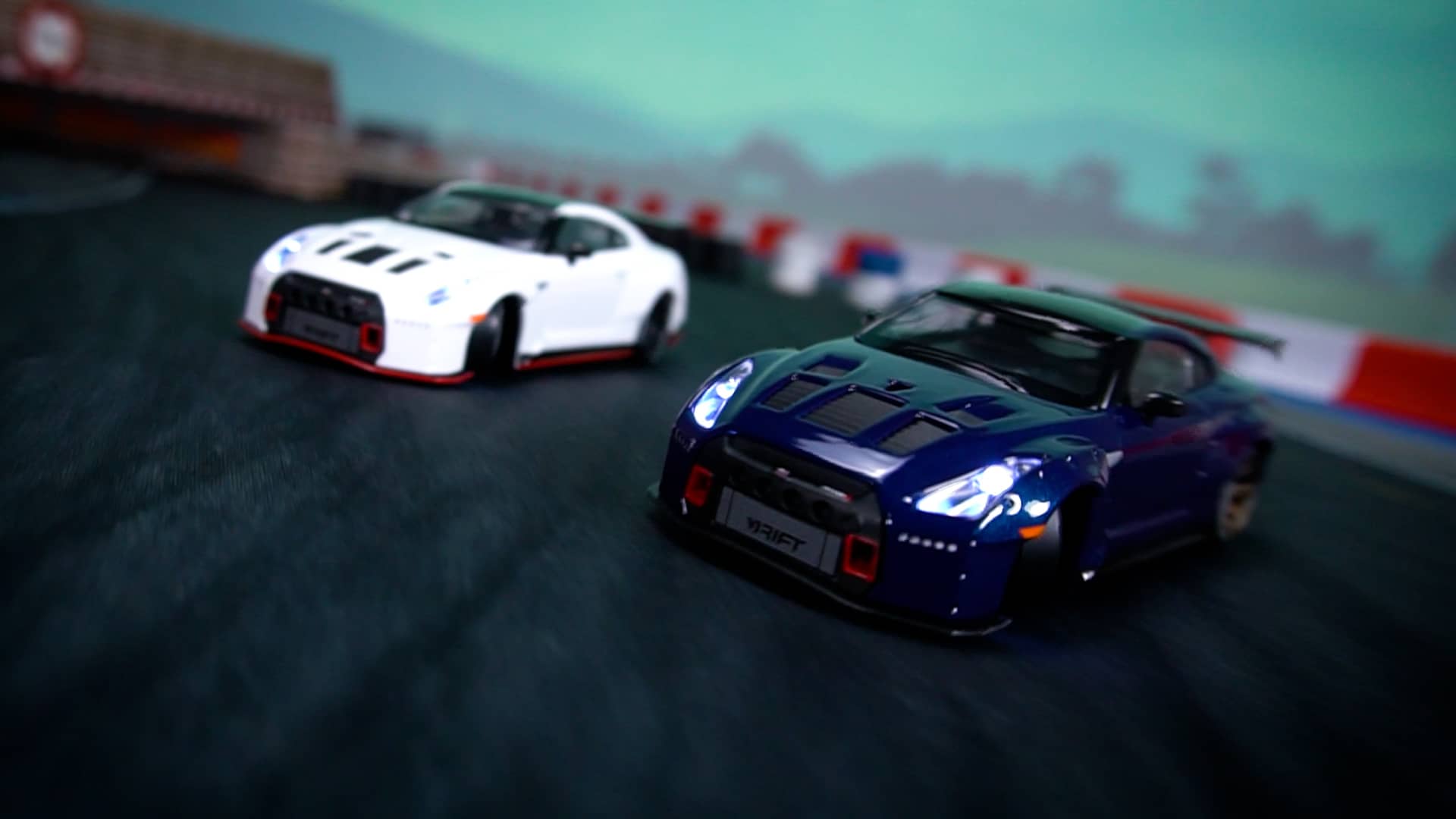 THE CARS
We recorded seven types of cars in total, along with their tuning and touring variants. Patrice and Axel tracked down most of the cars through private owners and they also found a dealer with a huge garage of only supercars and hypercars that they drove over for our team to use.
Not all the cars we recorded are included in the game, but we did use the sounds of some to design the custom sounds in their list. The cars we recorded:
Mercedes AMG SLS
BMW M3 E30 (DTM)
Mercedes 190 Evo 2 (DTM)
Nissan GT R35
Lamborghini Countach
Mustang Shelby GT500
Many cars were also privately owned by car enthusiasts who were excited to have the sounds of their own cars featured on such a game concept. They drove them over themselves to help with the operation.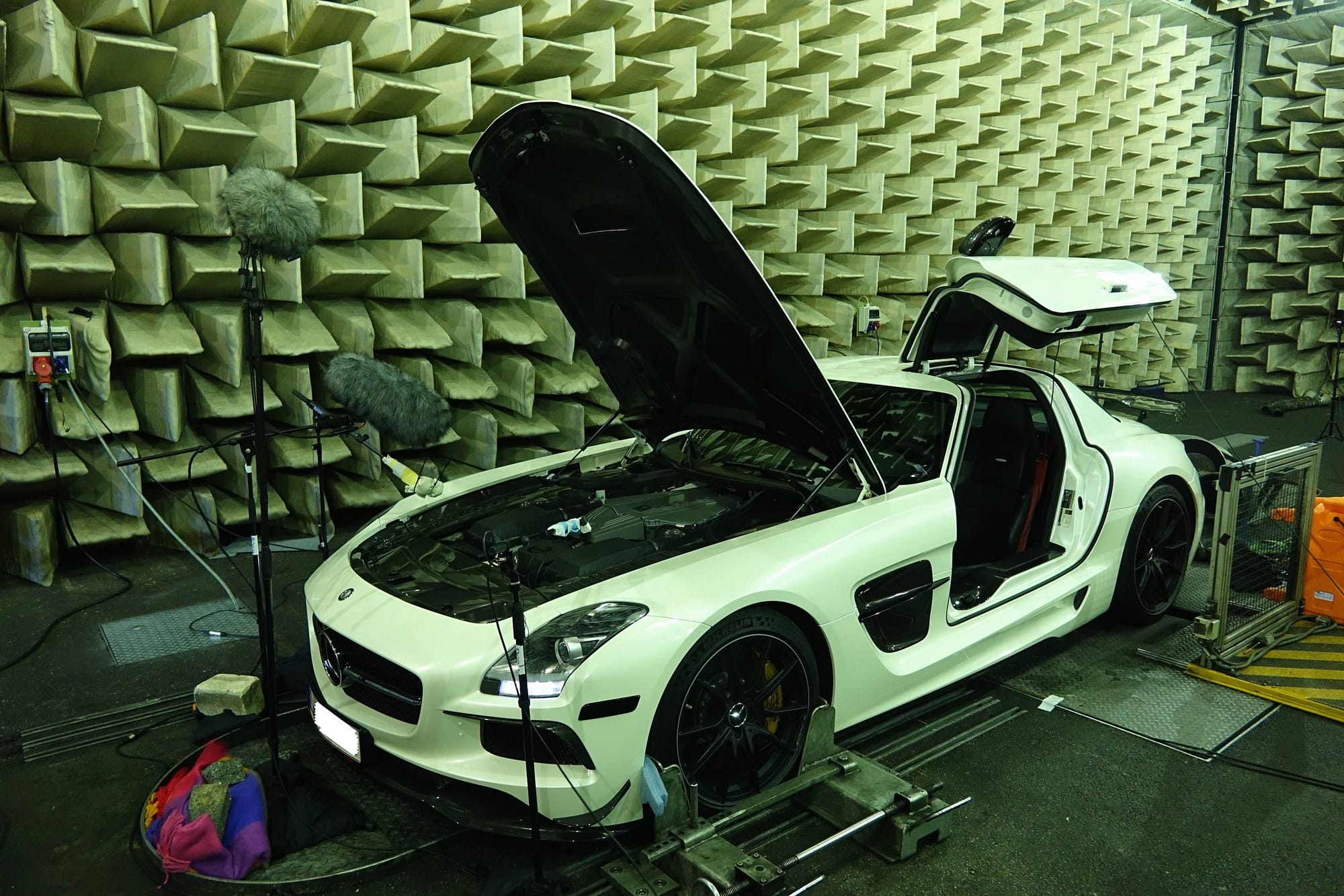 THE RECORDING PROCESS
The team set up an array of 30 microphones around all the important parts of each car, which included the air intake and exhaust. "It gets extremely detailed," Patrice said. With more microphones, it allowed them to "get the most character and flexibility as we need." Finally, there is also a 360 degree microphone rig set up inside the car itself to capture the interior.
With the microphones set up, the chassis dynanometer is put to work. We're able to simulate all the driving scenarios that we need, from idling and ramps to startups and stops. With these sounds, we use a granular synthesis tool to create engine models that we can integrate into Unity development platform, where we can flavor them with several additional sounds, like turbo, gearshifts, supercharger, or transmission.
It was not always an easy job. The microphones had to be reset and placed for each individual car. Especially the Lamborghini Countach.
"That was easily the most impressive car. A car out of every kid's dream," Patrice talks about it with a wide grin. "It's a V12, they don't build those anymore. It's the old Countach that everybody in my class – or nearly everybody – had as a poster in their room. It's like this futuristic car and it makes those big flames out the exhaust. We placed the microphones a bit sideways because they otherwise would be directly in the flames." And even though they had ventilation, it was almost impossible to clear the hulking beast's exhaust fumes out in time to keep the room breathable.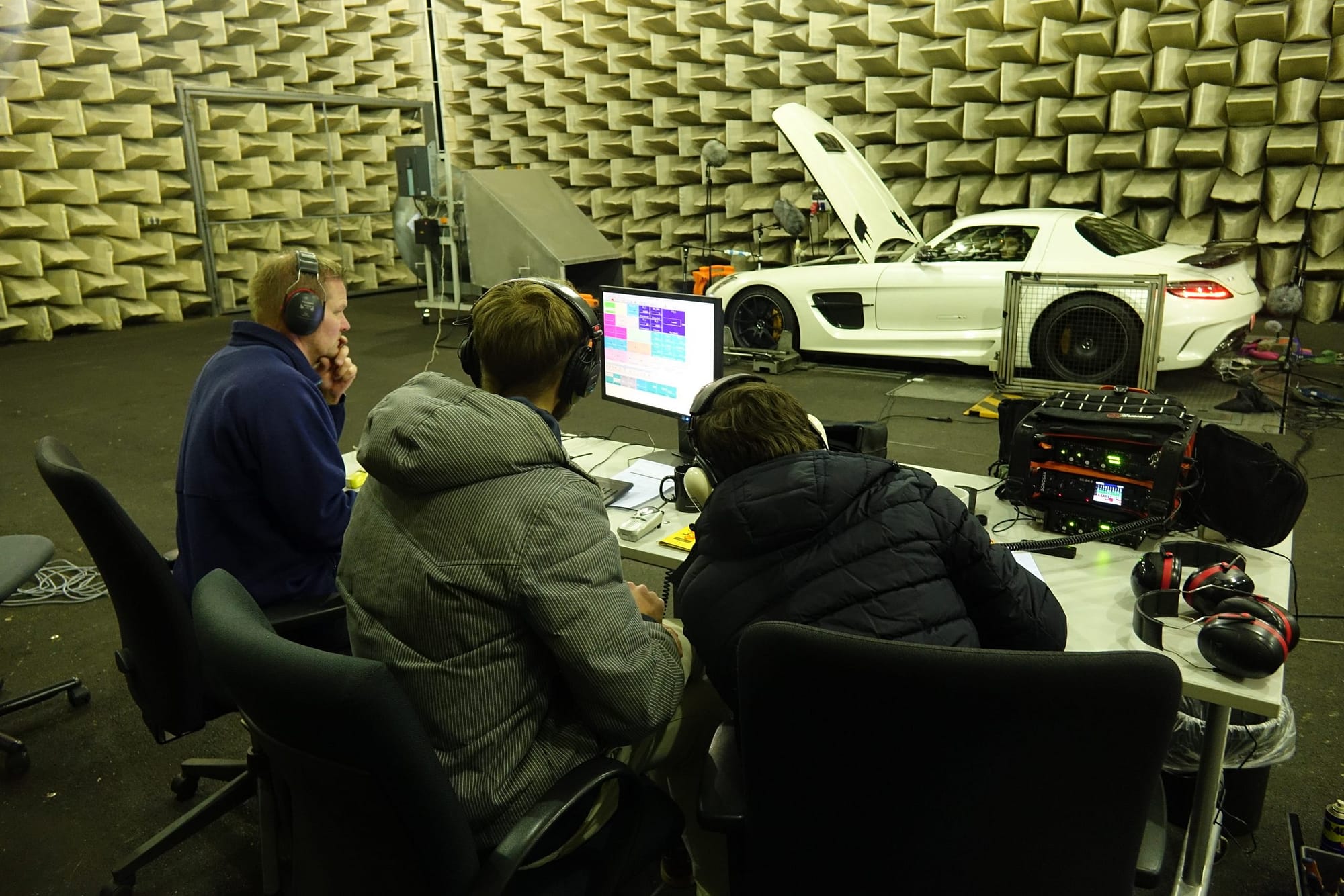 MORE SOUNDS
Our team didn't just do the engine sounds. When you think of drifting cars, you think of squealing tires, and that's precisely the other sound that we needed.
Here we had to think a bit outside the chassis. Recording squealing tires is an almost impossible task. Any recording, by nature, would pick up the engine sounds, wind sounds, and other ambient environment sounds that would be incompatible with a game of this nature.
"The tire squeals are actually hot water bottles," Patrice describes, "the kind you have if you're sick. If you press it really hard against some concrete – which is really flat and smooth – you can make those screeching sounds. That gave us more control over the sound and we could add the right amount of reverb to make it work."
Patrice did the further sound design and also used our GRIP plug-in to round out the auto sounds.
WRAP UP
It was altogether a thrill to work on such an innovative new project as DR!FT, which combines mobile gaming with real vehicles. Our sound designers, Axel and Patrice, were able to help provide a gaming experience that perfectly simulates the driving physics and sounds of real-life cars and transport players into the world of a racer. That's not an everyday feat!
Find out more about DR!FT and get your own car on the Sturmkind website.
25% OFF COUPON:
DR!FT4U25
Use DR!FT4U25 to get 25% off anything in their store, except DOG Packs, Software Upgrades and Gift Cards. It's valid from 1€ and runs until April 30, 2023. Customers can use the code up to five times. Also take advantage of their ongoing winter sale with discounts up to 22% off, until March 26, 2023.
Looking for rumbling racing sounds yourself? Check out our HOT ROD – REV UPS or CARS V8 libraries and model your own tire and chassis sounds with our GRIP tool.