Tomorrow is the day – the new Ghostbusters movie will be released in German cinemas 🙂 We´re happy to announce that our BOOM sounds were used in the new movie. We are always excited to hear directly from our customers. This time we connected with Andrew DeCristofaro who is the supervision sound editor of Ghostbusters. Today he tells us his personal BOOM sound experience. Do you want to know how a ghost sounds like?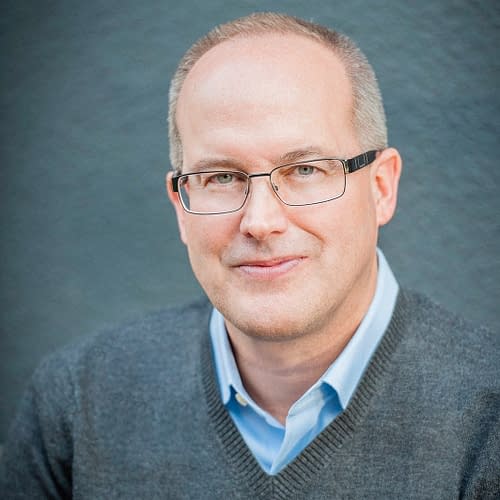 Andrew DeCristofaro / SOUND EDITOR • SOUND DESIGNER
(Iron Man 3, The Dictator, The Pink Panther, Little Miss Sunshine, Crazy Heart etc.)
If you've ever sat through the credits of a movie you know that, on average, roughly 5 million people are involved with making a movie. At least it can feel that way. We here at BOOM library love, as anybody does, a movie well done: when a gripping story is well enacted, the director does her job well and the cinematography, the cutters, the visual effects and all that good stuff have been meshed and executed on at the highest level. But, us being audiophiles, we have a special sweet spot for the sound of a movie, the soundtrack and of course, the sound effects.
Today we are excited to introduce you to the heavy-hitting sound-editing superstar Andrew DeCristofaro, who has worked on over 100 feature films including such an eclectic and impressive selection such as ranging from Iron Man 3, The Dictator, The Pink Panther, to the independent smash hits Little Miss Sunshine and Crazy Heart. Oh, and in 2015 he was nominated for the Oscar in Best Sound Design for his work on the epic "Unbroken", together with his partner supervising sound editor Becky Sullivan.
His latest undertaking as supervising sound editor is, some of you might have heard of it, Ghostbusters. We connected with Andrew and it turned out, he is a big fan of the BOOM library and actually uses our sounds from Destruction, Debris, Cinematic Metal, Magic, Creatures,Thunder and Rain, Cinematic Horror and Assault Weapons in his projects. We are always so humbled and excited when we notice that our work is being appreciated by the best in the world and what we do really solves problems for amazing creatives.
Making use of the opportunity to promote the release of Ghostbusters, which is about to hit the box offices in early August 2016, we spoke about his creative process, which tools he uses besides BOOM library sounds to overcome seemingly supernatural challenges – like: how does a ghost make sound without vocal chords?
Enter Andrew:
"The biggest problem with Ghostbusters was coming up with "what do ghosts sound like?" Since they don't have vocal chords, would sound be internal or more of an omnipresent thing? Electrical? Sort of coming from the ether???
Ultimately we found that they still needed to be originated from human performances.
Once the right recording was achieved the processing included pitching, pitch fluctuating, harmonizing, layering, intense high density delays, focused frequency delays, chorusing and various ways of destructing the file when more "grunge" was needed to make the ghost sound less human without feeling like an alien or animal. Various animals were morphed into the sound in a few places though we were careful to preserve the human like character of the voices, of course with the exception of the Concert demon. Plug-ins used included Kontakt, Soundminer, GRM Tools, Lexicon, Eventide, BBE Sonic, Morph, Excalibur, ProSubharmonic, Pitch n Time Pro, Altiverb, Revoice, and Dehumanizer.
To get some good animal recordings we augmented our library with some excellent recordings from the BOOM library.
One of the great things the director Paul Feig and the visual effects artists created was an intense aura for all the ghosts. To me the sounds of their presence carried almost as much weight as the voices they made. The aura ranged from things as delicate as a treated silk scarf gently wafting to heavy air ripping distortion, lightning and bones crackling. The neat energy presence the ghosts had gave us a palette of sounds to work with and helped give the voices another realm of human expression with a fun twist. Source sounds for that were various types of cloth whooshed through the air, an old piece of corrugated conduit, ice, fire, underwater recordings, thunder and lightning, and wind recordings. All these elements helped give a taste that these ghosts are a part of this earth.
Again… we turned to the BOOM library to help give us some new high quality recordings for many of these elements." – Andrew DeCristofaro
Andrew DeCristofaro on IMDb.
Thanks Andrew for those insights and taking the time, we are really excited to see and hear for ourselves how the movie looks and sounds!
And thanks to you readers who let us know which awesome projects you are working on and how the BOOM library sounds are benefitting you.