Long ago, there was a great famine. The people were starving in the streets, begging and calling out for food. The gods were angry with their children, as they too were hungry. Without the free flow of human blood, they would be unable to blow the sun across the sky. A sacrifice had to be made.
A youth was chosen. They honored him for the entire year. They instructed him on exactly how to act and bear himself to represent their people to the gods. The boy's sacrifice would provide the gods with the power they needed to save humanity. They would call the boy a god, giving him the name of the great Tezcatlipoca. Around his neck he bore two heavy whistles, carved as skulls. After his heroic sacrifice, he was to wake from his slumber and blow on the whistles. The loud wails would summon the god of the wind, Ehecatl – an emanation of the divine feathered servant and friend of man, Quetzalcoatl – who would bring him safely across into the afterlife.
These were Aztec death whistles. When raised to the lips and blown, they produce a shrieking sound so human that it can paralyze the listener in their tracks.
Recording the "shriek of death"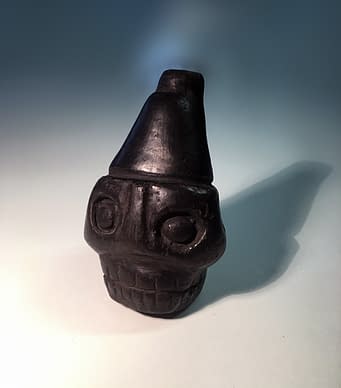 BOOM Library found the death whistles exceedingly interesting for sound design. We decided to do high quality recordings of the instrument to give away for free. Our sound designer, Jonas Heinemeyer took up the task, armed with an MS Setup (Sennheiser MKH 8050 + Schoeps MK8) and Sanken CO-100K to catch these bone chilling screams. The shrill shrieks were recorded in an extremely dry studio, with the mics set in different positions (both close & distant). Heinemeyer captured different intensities, lengths, and articulations, as well as some tonal wind noises. He found that "by opening the sound hole of the whistle with your hands, it can make it sound like a mouth is open or closed." For the BOOM Library set, Heinemeyer included processed versions as well, perfect for game and creature design.
The death whistle is an exceedingly complex resonator, but it is by no means unique in the area. The Aztecs and other Mesoamerican civilizations were noted for the development of highly accurate resonators that mimic all sorts of sounds – from the howling wind, to the ocean, to various birds and animals.
The interior of the death whistle is intricately carved out. Each air stream is forced to conflict with the other, producing a kind of wind distortion, a noisy and almost comically human sound. "You really need a lot of energy when you perform on this instrument," Heinemeyer says. "This definitely needs a lot of pauses and practice, as you have to get your other hand in parallel to get this sort of articulation effect."
When Heinemeyer took the skull-shaped object to his mouth, it was hard not to feel the history shrieking through.
Finding the death whistle
Archeology isn't as exciting as Hollywood makes it out to be. Very rarely now are there ancient Aztec temples discovered in the jungles, with booby traps and half-naked tribesmen guarding mysterious relics. Instead, there tends to be a lot of digging and a lot of sweat – especially true in Mexico City's suburb of Tlatelolco. The ancient city was once a rival metropolis to the Aztec capital Teotihuacan.
The two great cities were both full of huge, behemoth pyramids and worship complexes. They merged into each other, creating a sprawling cosmopolitan city fit for an empire. When the first invading Spanish came in, they recorded their impressions. They were mystified by the civilization they had entered, so alien to their own, and they had described Tlatelolco as a massive commercial complex, with over 60,000 merchants moving in and out.
In 1999, when Salvador Guillem Arroyo was excavating at the Ehecatl tomb complex at Tlatelolco, they came upon a room for a sacrificial victim – a 20-year-old's skeleton holding a skull in each hand. One of the excavators had recognized them for what they were – whistles – and immediately blew on one, producing the signature horrifying human-like shriek of death.
Before then, they had only found fragments of the whistles, which had produced all sorts of local legends. Some said they were used for war, others for a bizarre sort of meditation. This was the first intact whistle discovered in context. "This finding," writes Mexico City-based mechanical engineer Roberto Velazquez Cabrera for Mexicolore, "indicates that the whistles are associated with Ehecatl and the wind and Mictlantecutl (death), and they could be related to the ritual of sacrifice."
More than sacrifice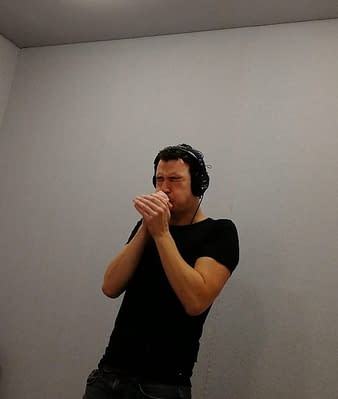 Of course, this doesn't mean there wasn't other uses for the whistle. The Aztec death whistle first came into popular lore in 2013 with a YouTube video featuring Xavier Quijas Yxayotl, who crafts his own variety of fantastical whistles and flutes inspired by earlier Mesoamerican designs. In the video, Xavier says, "They use when they have a war and fight with other tribes. They have over a hundred death whistles, marching, and make a lot of noise to cause big psychological effects to the enemy."
"To me, it's quite impressive how loud such a tiny instrument can be," Heinemeyer says. "After getting accustomed to the sound produced by this instrument, you start to hear it's actually just a loud, noisy whistle – but imagine hearing this on a nightly walk in the woods with some natural reverb – I think this can become more than the sound of a weird whistle."
No need to imagine though, as we are offering you the bone-chilling virtual instrument for free. Design your own scenarios with these inhuman curdles. Add the free product to your cart and get to screaming.

Death Whistle – Free SFX

689 MB of bone-chilling death whistle sounds
33 files with 179 total sounds
WAV – 96 Hz – 24 bit
Sennheiser MKH 8050, Schoeps MK8, Sanken CO-100K used in recording
Extremely dry recordings, both close and distant positions
Different intensities, lengths, and articulations
Contains additional tonal wind sounds