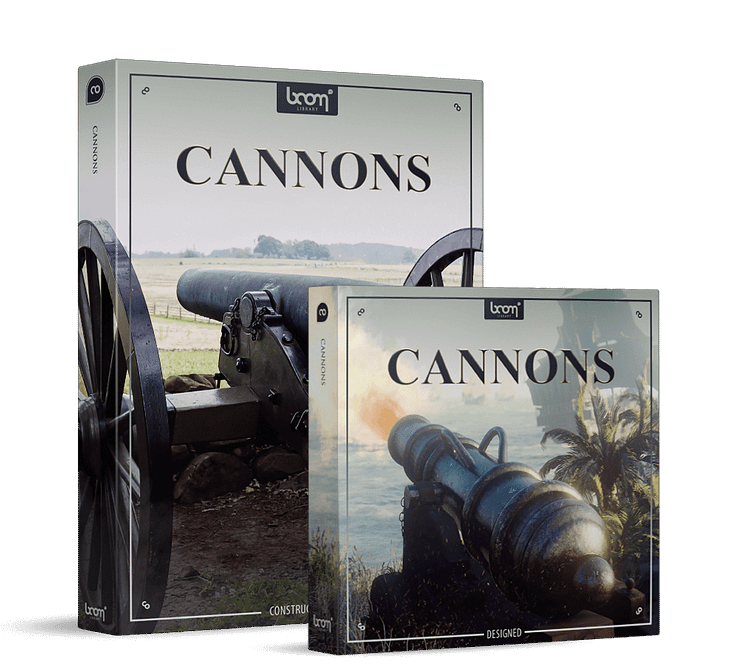 CANNONS

An explosive audio arsenal
---
With their thundering booms and destructive power, cannons have long captured the imagination of storytellers and historians alike. From ships-of-the-line to late medieval forts, from Napoleon's conquests to the American Civil War and beyond, they had a pivotal role in historical battles and inspire such an image instantly when they are brought up.
Despite the popularity of period pieces from pirate movies to medieval warfare games, it's surprising that a truly comprehensive cannon sound library has never hit the market. With the development led by our sound designers Wieland Müller, Patrice Börding, and Axel Rohrbach, our new CANNONS library features 15 cannons, along with impact effects and more.
"There are a lot of famous and big pirate games and movies, like Pirates of the Carribean, and they're the first thing I think about when I hear 'cannons'," says Wieland. "It's really cool to have this and there aren't really any libraries out there for cannons."
FINDING THE CANNONS
Believe it or not, but finding functional cannons in places free to shoot and record is no easy task. At a festival, for instance, you might get one wheeled up and fired a few times, but that's hardly under ideal circumstances. It's far away and there's a noisy crowd.
"We actually did have a really hard time finding the cannons," Axel shares. "We talked to pyrotechnicians, shooting clubs, friends and family."
We managed to find a few cannons here or there, but then we had to get permission to shoot, which was another huge restriction. "By a very low chance, a cannon ball could happen to fly high enough to hit a sport aircraft or other low flying vehicle," Patrice explained.
"Eventually we found out about a European historic cannon sharpshooting contest and got in contact with the German gunners," Axel said. The gunner team had the variety of cannons they were looking for, but what about the shooting restrictions? Since cannons are prone to flying high, the law requires that the airspace in the vicinity be closed during periods of shooting.
The shooting club trained on military grounds, so they had some contacts with the base command and got out team access to it. "It was an extremely nice environment and the gunners were super helpful and proud to be able to present all their cannons to us," Axel said.
The military base – besides being just about the only place to fire away – turned out to be perfect for a natural reverb as well. With forests and a hill, it created just the right tail. "On the right side you've got a man-made hill and you get some reflections going down into the valley," Patrice explains. "There's a really huge, echoing tail."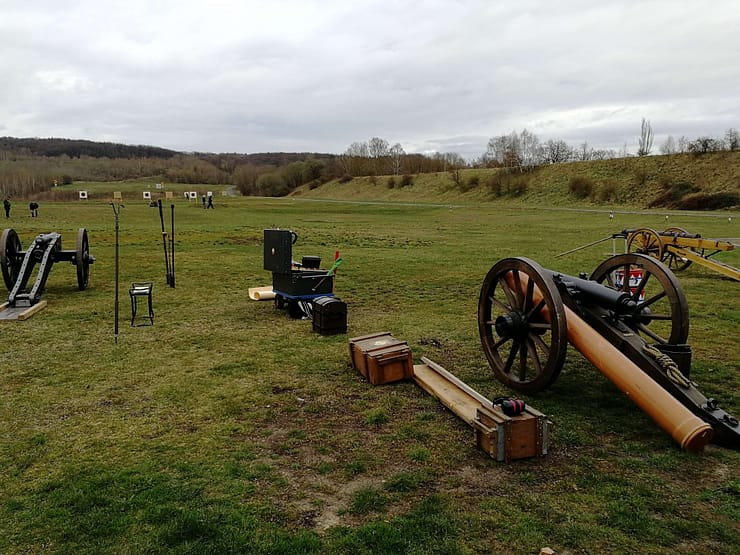 THE CANNONS
One thinks of authenticity as though an actual historic, period cannon should be fired. But in the 1700s, they weren't shooting from 300-year-old cannons, but new, well-maintained kits of gear. Were we to shoot from a 300-year-old rusting, banged up muzzle loader, not only might it not sound authentic, but it would be out-right dangerous.
"We used all replicas," Patrice explained. "The old ones would have to be still in really good condition. But even then, they might have broken down."
THE RECORDING PROCESS
The team had two days on the military base to set up, shoot the cannons, and make sure they had everything they needed. That was the largest, dedicated window they could get for the airspace closure.
They lined up the 15 cannons they had chosen, set up their sound rig around one cannon at a time, and blasted away. "We recorded one cannon, one shot, and then moved onto the next cannon, and then repeated," Patrice said. That was of course, not the only mic rig – they used 10 different rigs, set up around the cannons and across the fields. For the more distant shots, and depending on where they were situated, they fired with blanks so as not to get blown up by an incoming shot.
"You need microphones that can handle a very high SPL," Patrice explains. "The main rig was the closest to the cannons and was built out of two dynamic Audix D6 mics and two DPA 4007 omni mics in our beloved 'Hammerhead' configuration, both mounted on one stand. Plus two DPA 4062 boundaries directly underneath the cannons."
There were some difficulties dealing with the weapons. "We tried to capture the mechanics of the cannons as well, but a lot of those cannons were on wheels, and after each shot they were moving," Patrice continued. "So we asked if we could put the feet of the cannons in such a way they didn't go back.
"Besides that, we had several different other setups. I was standing with the close rig and then a little behind just to follow the actions and point on the cannon. And then we had two more setups behind the cannons. Then in front of the cannons with a lot of distance we had the ORTF 3D setup and even further away we had the Ambisonic mic . Last but not least, we placed several handhelds all around, from the side or behind the wall or places like that – those are good for experimental stuff."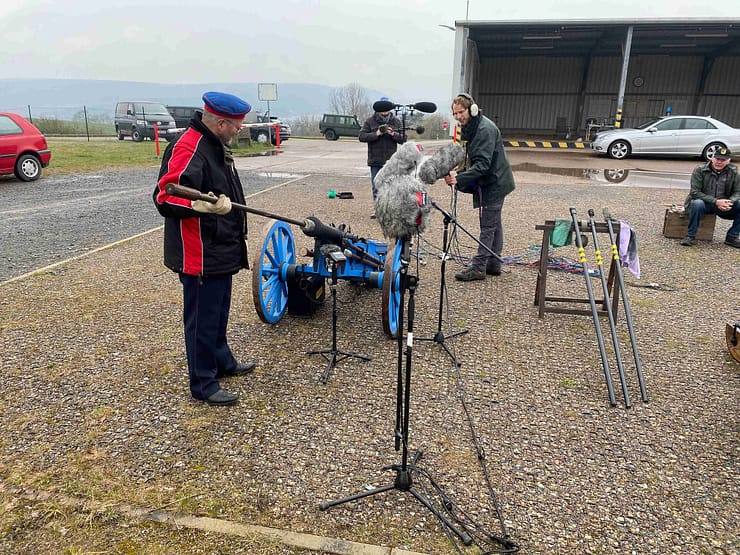 GETTING VARIATIONS RIGHT
For each cannon, they captured eight variations per blast. They didn't move or change anything themselves to capture the variations, as it's important to not have it sound too different. "That would make it too difficult to get consistency in the sound design," Wieland explains. "It's the same setup, otherwise each variation would sound too different and it would make it impossible to create the same feeling for the cannon if you designed it for a game or something."
Patrice adds: "When the wind changes slightly, you hear the tail changing, but the close mics should always be the same. In the end, the cannon itself adds variation. When you put the gunpowder in, the way you compress it can define the sound of the explosion of the detonation. Sometimes it was compressed very hard and was sharp and tight, and then we had some shots that were sounding a bit loose with less attack. That's the main difference in the variations. New weapons sound almost always the same and old weapons and muzzle loaders always sound a bit different with each shot."
BACK AT THE STUDIO
For all the sounds we couldn't get just right, and for a great deal of the foley sounds, we had to go back to the studio and figure things out. "We did extensive studio recordings after we found out that recording on site was not always resulting in what we would like to have in order to make this library complete," Patrice said.
We were then able to get complete control of all the dynamic qualities needed, especially for the mechanic and impact sounds.
THE CONSTRUCTION KIT
The Construction Kit includes all the natural cannon sounds and mechanical movements, flybys, impacts, and much more. Everything you would need for a movie or video game that includes cannons. It's the true cannon dream for sound designers, with all the raw cannon recordings and all the impact materials that could be needed in a war scenario, such as water, sand, stone, rock, dirt, sail, and more.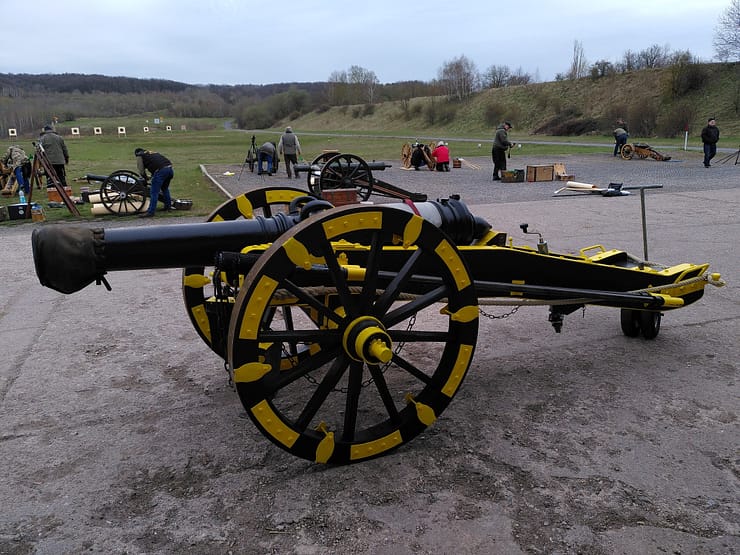 THE DESIGNED PACK
This includes only cannon shots. 5 sets of each of the 15 cannons designed in different ways: distant, mechanical, crisp, generic loud and generic soft. Each file has 6 variations.
The distant and generic loud and generic soft are self-explanatory. The crisp is "more of a modern kind of approach," Wieland explains. "It's more complex in terms of the transient and more focused on usability in trailers, and more impressive. It's not very realistic sounding and more into the future-modern direction."
"'Mechanical' means it has some pull back sound, like the movement of the cannon, like if after the shot there's something moving. It depends on the cannon and what it's made of, more wood or more metal."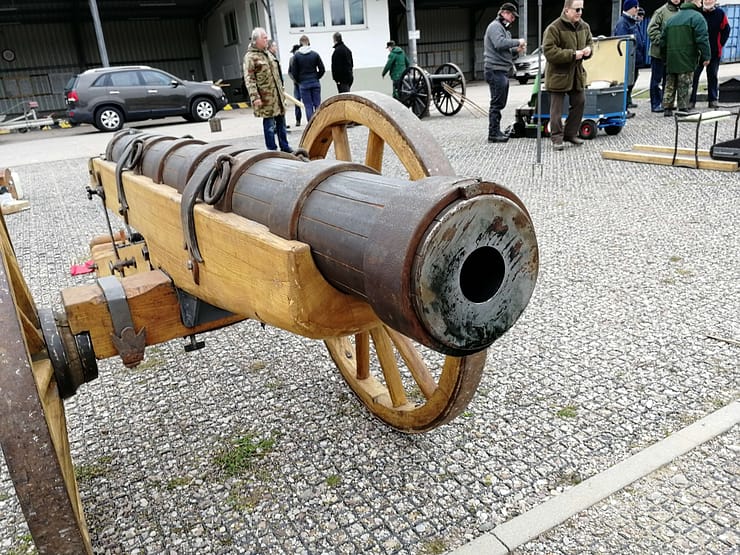 USING THE SOUNDS
Cannons were the main weapon of warfare for centuries, and any project that takes place during that period needs to have proper cannon sounds. You can use these sounds for the specific cannons, or for cannons that are close enough. "There are a lot of movies and cartoon stuff with this, like they show a big early cannon – these can be used in these kind of movies," Wieland says. "and pretty much in the most of the Middle Ages when cannons were introduced and replaced catapults and trebuchets. So I think also in this area, and also for films about the American Civil War… there's a lot of potential media that have cannons or something like cannons. But you can also use it to design different kinds of explosive weapons. It might be pretty cool to have cannon source files to design a very nice big sniper rifle sound, for instance. Stuff like this could also work for explosions. So not only does it work in all the past centuries, but also in modern use-case scenarios."
You can get CANNONS now for 20% off during the introductory sale – $108.00/95.20€ for the Designed pack and $159.20/143.20€ for the Construction Kit. You can also get them as a bundle for $204.00/183.20€. They are normally priced at $135/119€ for the Designed, $199/179€ for the Construction Kit and $255/229€ for the Bundle.
Make sure to order CANNONS by June 8 to save 20% with our introductory offer!
WHAT OUR CLIENTS THINK ABOUT
MONSTERS & BEASTS