Axel examined carefully four different recorders: 744T (Sound Devices), 688 (Sound Devices), 62r (Sonosax) and R4+ (Sonosax). Since we are looking constantly for the best solutions, it was about time to take a look into the technical heart for all of our outdoor recordings. Do you want to know which recorder won the race?
If you want to follow the review and listen to the different audio examples click HERE to download the audio files.
Clear the ring: R4+ vs. 62r vs. 744T vs. 688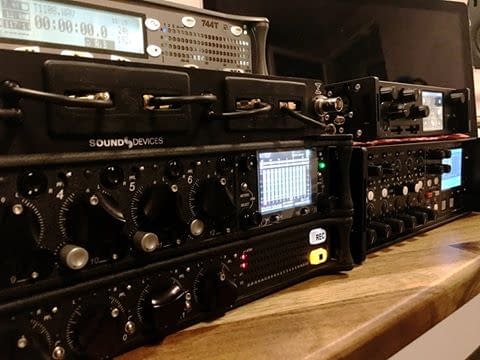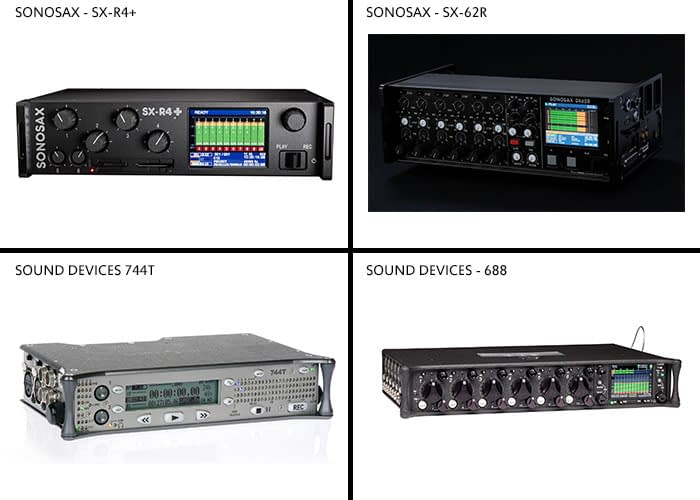 For several reasons we needed to upgrade our recorder a little for some projects. One reason was that we weren't that satisfied with the sound of the Sound Devices 744T for certain topics anymore. In some situations the hard, direct sound of the 744T is very welcome, but we wanted some additional sonic options. We still love the recorder, don't get me wrong, it is just not always the right tool. Another reason is that we need a recorder with at least 6 channels, or even better some more – all recordable at high sample rates, at least 96kHz. Since we had some awesome times with Sound Devices gear, of course the 688 came to my mind pretty quickly. At 96kHz it can record up to 6 tracks and already has 6 mic preamps integrated, which is pretty awesome. The 62r from Sonosax is a lot more pricey, also has 6 mic preamps but is capable of recording 8 channels up to 192kHz. Both are rather big and heavy machines, the 62r being slightly lighter. Of course speaking of Sonosax, the rather new R4+ is something to consider as well. It only has 4 mic preamps and no limiters, but it is super small, light and can record an unbelievable track count of 16 channels up to 192kHz and it is the only recorder capable of doing that at 32-bit, too.
First of all I was a bit tired of connecting two mono preamps to the 744T to get 4 mic preamps running. More cables, more batteries to take care of, more potential error sources. So my initial thinking was that I would go for the 688. Even though the 62r has some similar features, the price was holding me back a little. However, that changed when I got my hands on those units.
First impressions, power off: All recorders feel pretty solid. The 688 a bit more than the 62r, because the knobs are bigger, have a better grip and it feels a bit heavier. The knobs on the 62r are small, and don't feel super precise (again; talking about the recorders powered off). The R4+ has similar knobs to the 62r, but less of them. Powering the units on, all of them are ready to use pretty quickly. The 688's quick start is definitely the fastest way to boot it up, the normal booting process takes a bit longer than the Sonosax recorders.
A little side-note: I did the test with a stereo matched pair of DPA4007. Those microphones have a very low sensitivity and a very high 159 dB of max SPL. So there is a bunch of noise coming from high gain settings on all recorders, but this is the only matched pair that I had around during the test. I tried to get the same gain levels as precisely as possible to record some white noise, sweeps, clicks using the same microphone and cable at the same spot played back by the same speakers to get a clear first sound impression. I don't want to show those off as soundcloud links or similar here. Simply download the test files and find them in there. Interesting enough: All recorders are very different. Getting too hot into the recorders during the sweep was to check the limiters on the 62r vs the 744T and the Dual AD conversion which should not make a limiter necessary on the R4+. Since I recorded at 192kHz there were no limiters available on the 688 and no Dual AD conversion either.
Looking at the spectrum the 688 and R4+ look very clean. The 688 clips unsurprisingly, but – even though a bit less – the R4+ does as well. Which means: "no limiters necessary" might be true for most film situations, but it does still clip at a certain point. The limiters of the 744T do some really weird overtones at low frequencies and a lot of crazy fluttering at the high end of the sweep. The 62r creates a much more natural result here; a lot less artifacts at the low end and no fluttering at the high end at all.
Noise+Sweep_744T: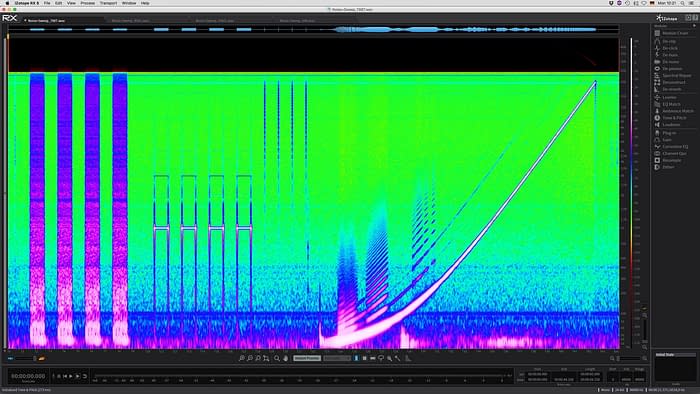 Noise+Sweep_688: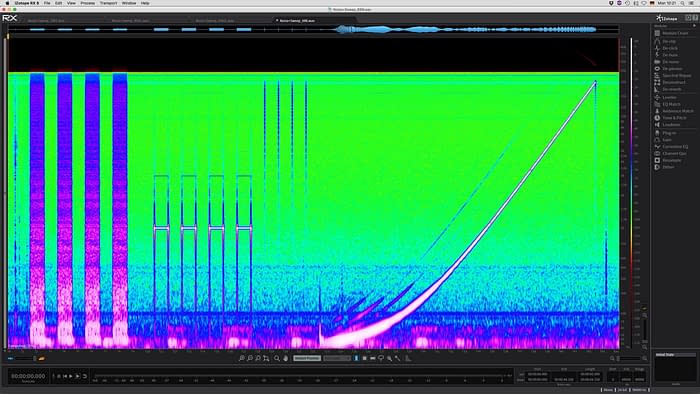 Noise+Sweep_SX62r: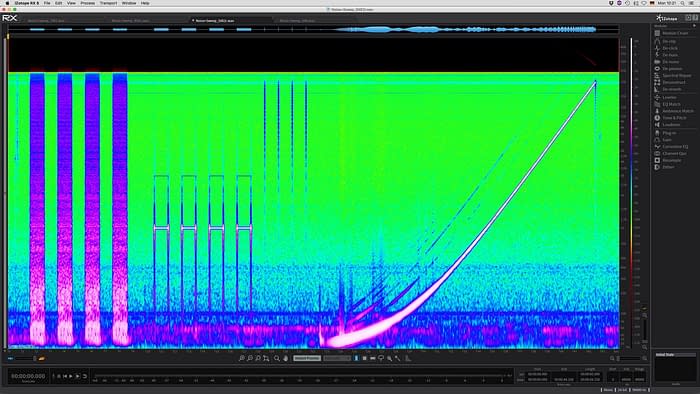 Noise+Sweep_R4+: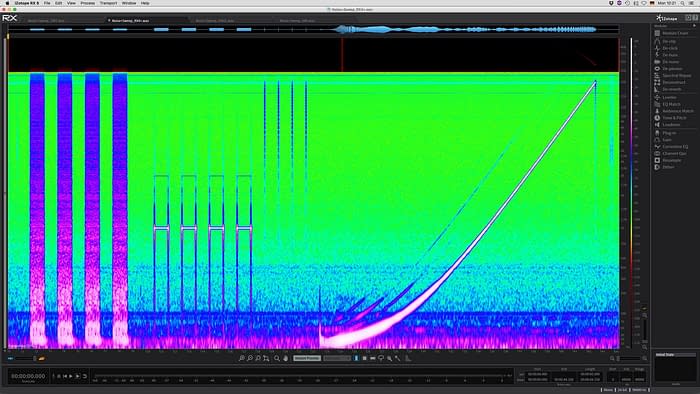 I do have some impressions from the noise, tone and spike but you might want to decide for yourself what to make of that. Two things that are pretty obvious in the pictures above: a) The 62r has an implemented pre-microphone-preamp low-cut. It seems to start somewhere below 10Hz. In my opinion this is pretty awesome, because we cut those out most of the time anyway and it just adds more dynamics and the limiter has nicer material to work with, without having to react to those ultra low frequencies. b) There is a high tone around 16kHz (and one above that) which is in the room. Even though the sound is unwanted, the Sonosax recorders pick this up a lot better than both Sound Devices.
But hey, who wants to record noise, sweeps, tones? I preferred the SX62r and the R4+ from this technical test. Because of the high price of the SX62r I wanted to get some better ideas of the R4+ and started recording. First I wanted to know, if 16 tracks at 192kHz / 32-bit really does work. And I was blown away: yes, it records this high track count on SD cards. So the R4+ was back in the race. I started to compare it to the 744T and 688, only to find out that the R4+ stopped recording without warning, saying something about SD card error and not even keeping the stuff recorded up to this time. It took me about one full day only to find out that it still is not working, even worse with low track counts. So the R4+ dropped out of the race again – the one thing which is most important in the field is reliability, which the R4+ did not offer (but hold up: there is a major twist later in the review).
So, I recorded some things with the 62r and the 688 simultaneously with the DPA4007 matched stereo pair. Again, I tried to gain the two machines as similarly as possible. First I wanted to know how both sounded without gaining too hot, so without limiters jumping in. Then I recorded some things rather hot to check, what the limiters are doing and how they sound. To me the 688 sounds a bit "fatter", but at the same time a bit muffled. The 62r sounds beautiful, with nice, smooth but also very clean high frequencies but a bit less lower mid frequency response. I tried to EQ the 688 to sound a bit more than the 62r and the other way around. It is pretty easy to get the 62r sound more like the 688, but not the other way around. When added high frequencies to the 688 and removing a b
it of the low end, the 688 still does not reproduce those creamy high frequencies. Also I liked the very natural sounding limiters a lot more on the 62r. I fell in love with the 62r, but still was a bit concerned about the price. So I did a powering test. The 62r ran more than 6 1/2 hours straight recording 8 tracks in 192kHz with one NP1 70 battery. The 688 only about 5 hours. Also the 62r can do 8 tracks in 192kHz with all limiters activated, the 688 can only record 6 tracks at this sample rate and no limiters are available at 192kHz at all. I liked the menus much more on the 62r and the touchscreen works pretty well, too. I also had a few concerns how the record switch would work in reality, but it works very well. So: I kind of decided to go for the 62r.
But then, Sonosax "forced" me to go on with the test, because of their really awesome support. During my tests I was in contact with them and they were very eager to find out what the problem was with the recording issues I had with the R4+. After I decided to go for the 62r, they send me an internal beta firmware which should solve the SD card issue on the R4+. It worked, all problems were solved. So I started to rethink. The R4+ does sound nicer than the 688 in my opinion, but has no limiters and only 4 mic preamps. But than again: it is very light and small and for a lot of recording situations I don't need limiters. It is also a quite bit cheaper compared to the 688 and is the heart of a 16 track recorder. So, combined with some more microphone preamps it might be the better choice. I tried the Sonosax M32 mixer, a three channels mixer having the exact same microphone preamps as the 62r. Two of those, and I would have a 6 channel 62r "replacement", combined with the R4+ a 10 microphone preamp recorder which is very flexible and sounded like what I was looking for. Another major plus is, that the M32 can be combined with the 744T, so that I would have 7 channels with the Sonosax setup and additionally a 4 channel setup with upgraded preamps using the 744T.
In the field: Via a web-interface and the built in WiFi of the R4+ a lot of things like track names (probably most time consuming) can be done via a computer, phone or tablet browser which is super handy. Monitoring via headphone works well. The solo function on the built-in mic preamps is super easy to access, the other channels are a bit more complicated to access compared to the Sound Devices style, but still works very well and might work even better / faster with some practice. The menu offers tons of possible alteration of functions. For example the four faders can be set for several things, most basic you can chose between being a gain rotary or a fader. But those are also knobs and you can choose tons of function for what happens when you push them short or long. So basically, you can really find your most useful personal setup. Not only that, you can also store up to 8 user settings, which can be labeled and which store all (!) settings. Both M32 are connected to the R4+ as follows: the Mix (in our case inputs one and two) are outputted via AES/EBU post fader, faders set to 0dB. The third channels is outputted via analogue direct out pre fader to line in 5 and 6 of the R4+, faders of the M32s set to minus infinite. The R4+ has an asynchronous sample rate conversion per AES/EBU pair, which means no additional clock is needed. That also means: the R4+ still has six channels via AES/EBU left (two via snake, two via AES Aux in). That adds up to 16 channels of input that can be recorded. The stereo mix could of course be recorded as well, but that is something not really interesting for our purposes. One of the M32 can be powered via DC out which is very handy. The KTek Small Audio Bag is the bag of choice for us for the smaller 7 channel setup.
We did a 14 channel recording, using the 10 Sonosax channels plus the 4 744T channels right after we decided to go for this set. This was an indoor session, so power was accessible for us. The Sonosax setup did an awesome job, sounded great and did everything as wanted and expected. It still is a bit complicated to take track of which channels comes into which device on which track on which recorder, but then again it is possible to label every track with useful names and not only that, you can also color the tracks differently to get a better overview. So today we are pretty happy users of this machine and I especially can't get enough of those M32 Mixers.
Click HERE to download the audio examples
Some words regarding the audio examples. First of all, those have mixed sample rates, this happened because I wanted to test different sample rates and sometimes I had to change sample rates to be able to use the 688's limiter.
1. Noise+Sweep_RecorderXY: Those are the rather technical recordings I did for a first rough comparison and to set the gains.
2. Cymbal_688_Limiter.wav vs. Cymbal_R4+_DualAD.wav: I am a bit confused what to make out of that. Goal was to test the R4+ "no limiter needed" dual AD function. Even though it looks distorted / clipped, by zooming into the waveform a lot it seems not to be distorted / clipped. The limiters of the 688 are clearly audible, the R4+ just sounds louder. Lay those down in a sequencer and check the tail: the two files are gained identically, just in case.
3. Pots+Claps+Mechanic_R4+.wav vs. Pots+Claps+Mechanic_SX62r.wav: compare yourself.
4. Pots+Mechanic_01_62r_noLimiter96.wav vs. Pots+Mechanic_01_688_noLimiter96.wav: gained low enough so no limiters were engaged.
5. Pots+Mechanic_02_62r_Limiter96.wav vs. Pots+Mechanic_02_688_Limiter96.wav: gained "too high" to compare the limiters of those two recorder.
6. Shot+Impact_688.wav vs. Shot+Impact_788T.wav vs. Shot+Impact_RX4+.wav vs. Shot+Impact_SX62r.wav: all recorders gained the same, recorded with the same mic at the same spot through the same speakers. So not really a representative source, but still a very good way to compare the recorders. Gained low enough so that no limiters / dual AD conversion interfered.
I hope this helps some of you guys to get a rough idea. Of course no single review or test is as good as testing it yourself, so this is just what we tested to decide and why we chose the R4+ / M32 combination.