BOOM ONE UPDATE

Hear the thunder with BOOM ONE's fifth update
---
It's time again for a BOOM ONE update. This month, we're delivering the rumble of roaring warplanes cruising sunny skies and the bangs and slams of ancient doors from castles of old straight to your audio projects. The pack contains 618 total files (2535 total sounds, including variations, a whopping 20+ GB), which includes 243 files of military aircraft sounds, 115 ancient door sounds, and 260 additional sounds of various ambiences. The aircraft sounds include flybys, maneuvers, and ambiences.  Meanwhile, the ancient doors collection should be more than enough to fill out the right tones for your castle-based escapades, with castle doors, jail gates, and more. And the ambiences include a factory, tavern, wheel repair shop, beach/sea, and even a huge soccer stadium filled with a massive crowd.
For our team, capturing the thunderous roar of military aircraft from a mountaintop was a truly exhilarating experience. That's why for this blog we spoke to our recordists Fabio Coressel and Eric Buschendorf to share their experience covering the recordings.
PREPARATION
Eric and Fabio found a military airport where they could capture the audio they needed for this upload. It was quite a unique situation, and they had to carefully consider what equipment they would have to bring. When confronting hiking up a mountain to get a good view over jets and helicopters with a bunch of suspicious-looking technical equipment, naturally the considerations went a bit further than their usual outings. Fabio and Eric had to first figure out if there were any restricted areas nearby, and just how close they could get to the sources they wanted.
The location was a 3-hour climb. They scouted it out, studied the flight paths of the jets and the terrain and figured out where to set up the microphones to capture the best audio.
"Understanding all the event's unique requirements is crucial in selecting the right microphones and equipment for the job," says Fabio.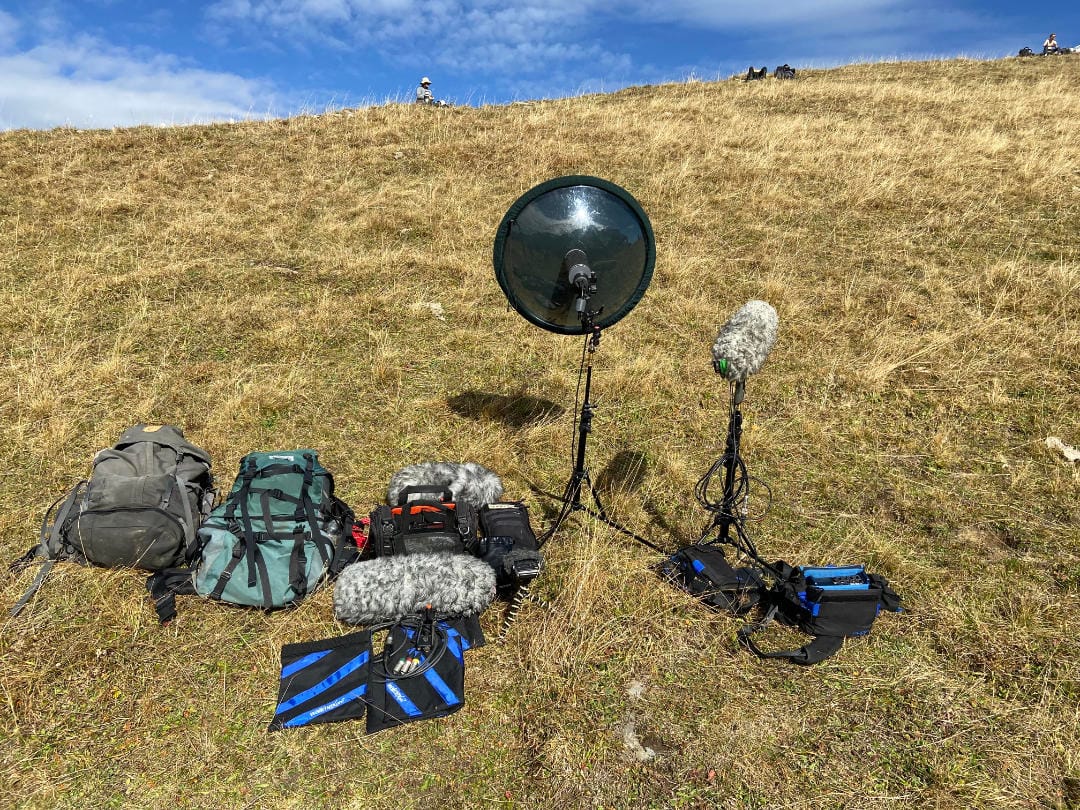 RECORDING
They knew they would need a flexible setup to catch flybys that they could easily transport up a mountainside. "We also needed microphones with a high SPL handling capability to withstand the thunderous roar of the jets without any distortion," Eric said. They decided to combine a MKH 8050 super cardioid microphone for the mid with a Schoeps MK8 figure-eight microphone for the side, in a Mid-Side configuration. Due to their centered mids and how they point directly towards the source, the MS microphone setup tends to outperform the XY (crossed-cardioid) setups in this kind of situation.
"To capture a highly detailed surround sound of the flying jets, we placed a 3D Ambisonic microphone in the center of the valley," Fabio adds. The microphone uses an array of capsules to capture audio from multiple directions, providing an immersive and realistic audio experience for the listeners. "It allowed us to capture the spatial characteristics of the jets' movement as they flew through the valley, really giving us a unique and immersive audio perspective."
The jets' engines and exhaust noises were recorded with a parabolic microphone for a more detailed and up-close experience. This specialized microphone employs a parabolic dish to concentrate and record sound waves coming from a single source. "It allowed us to isolate and capture the sounds of the jets' engines with precision," Eric said. "It really gave us a clear and detailed audio of the jets' close passes, which adds to the sonic intensity of the recording."
WHAT WE CAPTURED
Fabio and Eric climbed to the top of a mountain to get into the best position to record the jets and helicopters included in the upload. "The aircraft launched off from a nearby military airport," Fabio said, "and showcased their moves right next to the mountain – like 50 meters from us!"
They were able to record a lot of sounds not readily available, special military jets like the F/A-18 Hornet and the F-35A Lightning II. "It was great because they were doing special air force maneuvers and training scenarios, like flying in formation and shooting at targets. There were also helicopters like the AS532UL Cougar involved, training for rescue operations."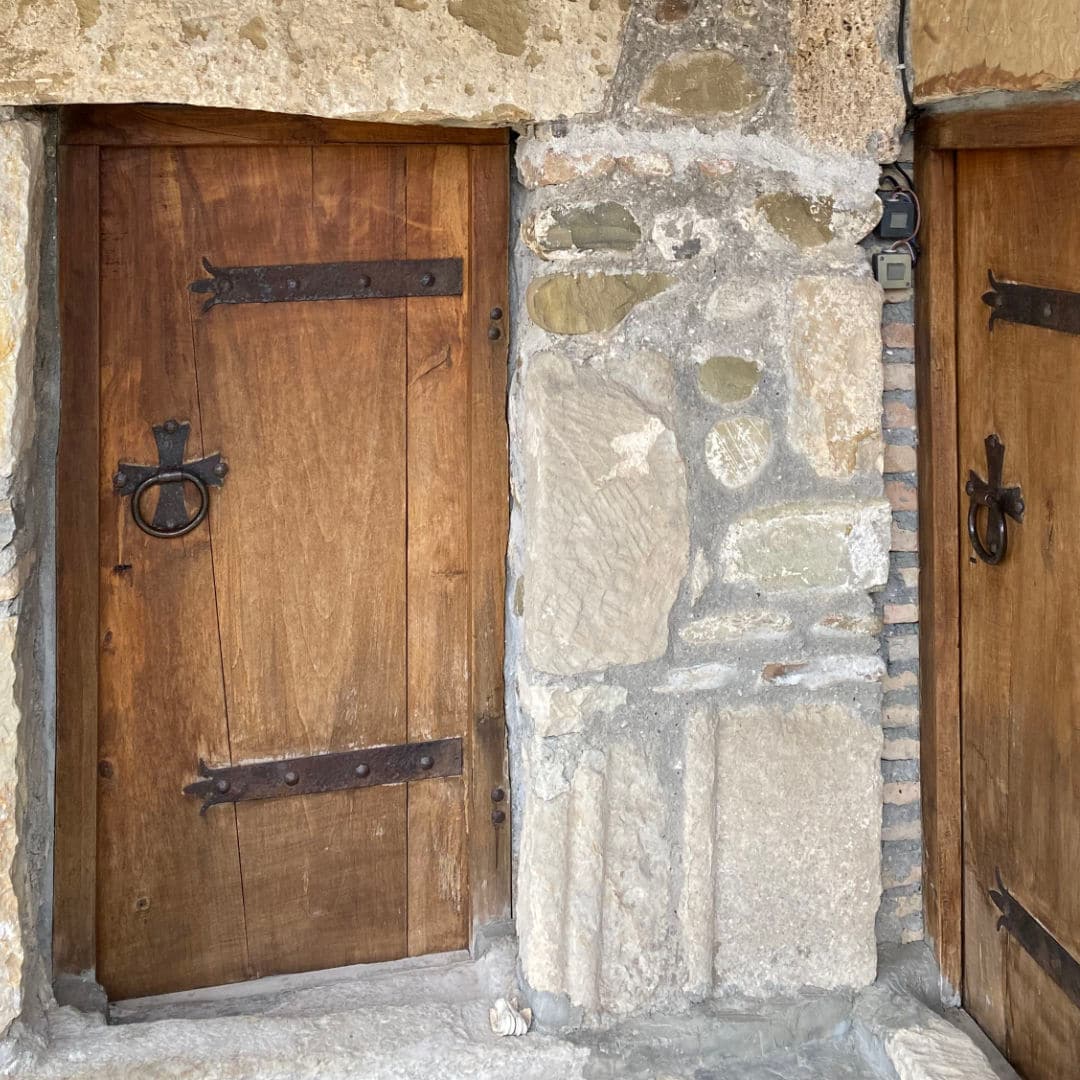 AN EXTRAORDINARY EXPERIENCE
Fabio and Eric were blown away by their outdoors adventure, and not just from the jets and choppers. "The valley was nestled among towering mountains and provided a natural amphitheater for the jets to soar through," Fabio says, describing the scene. "The open space and the acoustics of the valley created a really unique soundscape – a dream for any audio recording enthusiast. It was a perfect trip, filled with adrenaline pumping moments and the satisfaction of capturing truly epic recordings."
We hope you use this latest upload to the max. But what if you don't have BOOM ONE? Get access to these booming sounds, along with thousands more in addition to monthly updates of new inspiring sounds. Learn more about this constantly expanding subscription plan on the main BOOM ONE product page.
WHAT OUR CLIENTS THINK ABOUT
MONSTERS & BEASTS