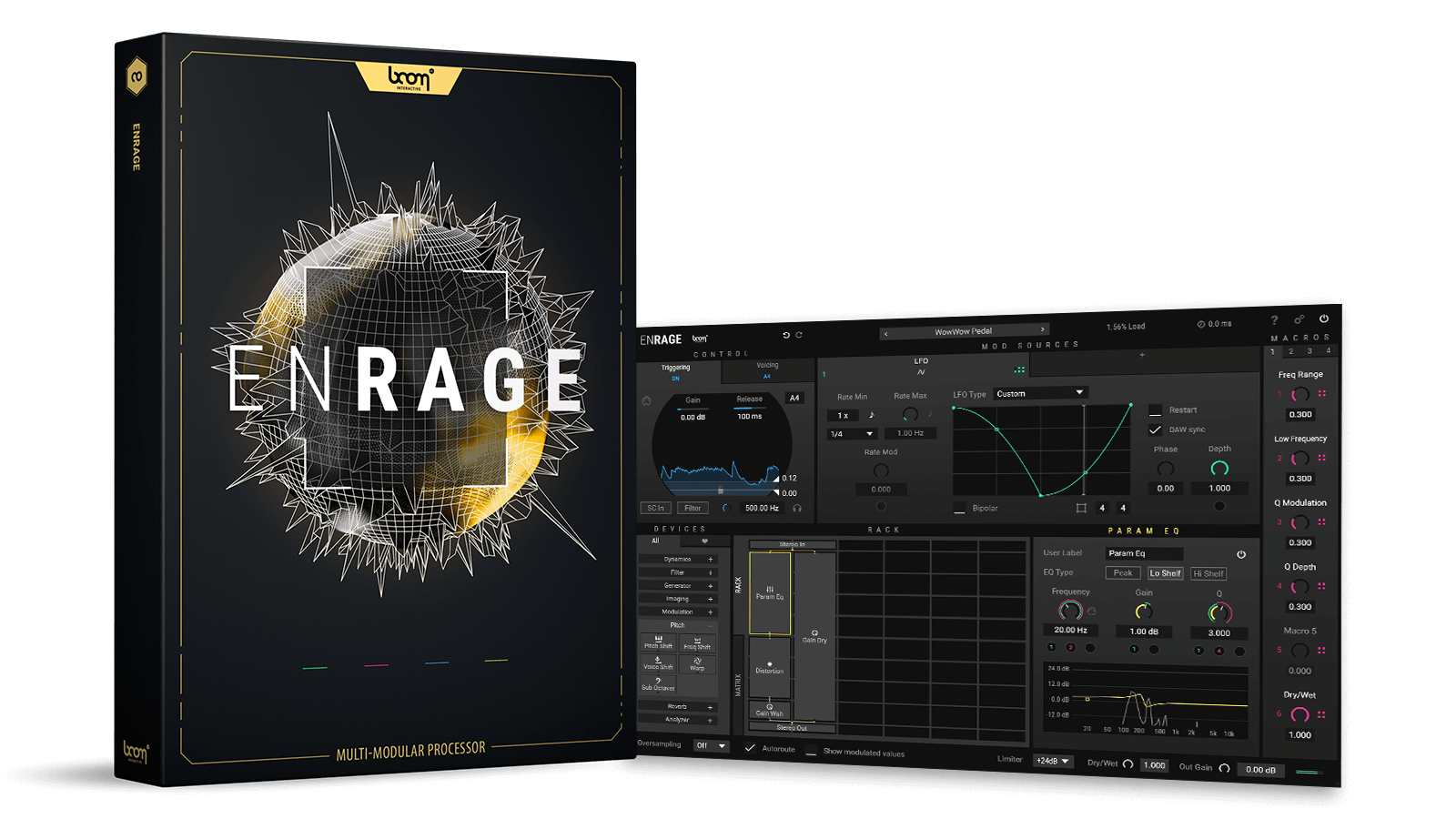 Our ENRAGE multi-effects plugin has just received an update so massive that in our opinion, it almost warrants being released as a new version altogether. But we wanted to first maximize the value of the product to the very extreme. That's why we are absolutely psyched to announce this update, which we think greatly expands ENRAGE's capabilities. The new features and improvements in this release will take your audio to heights you never thought imaginable.
"This update lifts ENRAGE to a new level with a plethora of usability and performance updates, new Mod Sources, and new or updated Devices," Axel Rohrbach, our co-founder, says. "ENRAGE is more flexible, more precise, and more creative than ever."
DEVICES
One of the most exciting additions to ENRAGE is the new Device called Tame. Tame dynamically detects any peaks in the frequency spectrum and allows you to remove or isolate them with precision, giving you complete control over your sound. Is that cowbell making you clench your teeth a bit too hard? No problem, just slap Tame into the chain and it will handle those annoying squeals.
"Tame alone is worth a complete plug-in and gets super interesting when used with the side-chain option, too," Axel adds. "As always with ENRAGE, it is the combination which makes things exciting!"
That's not all for Devices though. We also added a linear phase mode in all Band Splitter Devices, and new a bitcrusher mode to the Decimator Device, the Panning Device has selectable pan laws, and we added an efficient mode to the IR Reverb Device, among other minor  improvements.
MOD SOURCES
Additionally, we put in a few more Mod Sources, including Smooth and Spring. Smooth acts as a filter for modulation, allowing you to adjust rise and fall times and smooth things out. And with Spring, you can apply spring physics to your modulation, adding unique boing to your effects. We've also added parametric mapping curves that can be further modulated.
Along with that extension of modulation capabilities, we've made it easier to customize your workflow. You can now save and recall both Mod Sources and Devices along with their configuration in a favorites list by simply dragging and dropping. You can also create both Mod Sources and Devices with a right click popup menu, making life and usage a lot easier.
LATENCY COMPENSATION
Undoubtedly though, the biggest under-the-hood overhaul of the plug-in is the latency compensation that we coded in. Latency compensation refers to the various delays that can occur, that is, synchronization issues, when passing through a plugin's processing. This can cause various problems to arise during playback, but we've managed to solve the issue. ENRAGE now automatically compensates for any latency issues that may arise, allowing you to focus on creating the perfect sound without worrying about technical issues.
NEW PRESETS AND MACROS
The new update also includes 60 brand-new presets, each designed to showcase the power and versatility of ENRAGE's new features. To find the new presets, simply do a search for "1.4" in the preset browser. Using these as a starting point, you can see all the creative and useful applications for Tame, Smooth, and Spring, and possibly be inspired for your future sounds.
And by the way, you are no longer limited to a handful of macros. You've got a massive 24 fully assignable macro knobs to tie things to, greatly widening the spectrum of parameters that you can control from the DAW.
MORE UPDATES
Did we miss anything? Oh, yes we did. Here's a long list of things that we didn't mention above that you should know about:
Improvements:
UI can now be resized with a corner resizer
Automatically create a modifier Mod Source (e.g. a mapping) by using the right click popup menu on a Mod Source
Multi-replace Mod Source assignments. When dragging a Mod Source over an existing assignment, hold Ctrl/Cmd to change all assignments to the new Mod Source. For example, this can be useful if you want to replace all assignments of a Macro with a Mapping.
Mod Sources can now be duplicated via dragging (like Devices)
Macro names are now reported to the DAW (not all DAWs support this equally)
Default settings for Autoroute, Show Modulated Values and Output Limiter can be configured in global settings. These will apply to newly created plugin instances.
Most knobs and sliders now snap when dragging and holding down the shift key
Added sustain to ADSR Mod Source visualization
Clicking the label of an unselected Mod Source will select it instead of opening the label editor
Default BPM can now be configured in the preset settings for hosts that do not provide a tempo
Preset browser now recalls state after plugin editor was closed
Added popup menu on preset name (on top) with reload/save/init functions for quick access
Undo history no longer gets cleared when saving a preset
Improved UI performance
Mac build no longer requires OpenGL
Changes:
Removed "show device latencies" setting from global settings; Device latency is always shown if a device introduces latency
Redesigned global settings
Bugfixes:
ADSR mod source was not sample accurate
Repeater device did not reset properly
Missing samples related to other plugin instances will no longer be treated as an error
In ProTools 2023.03, mouse clicks on some popup menus and combo boxes did not work
Don't have ENRAGE, one of the most advanced and versatile multi-effects plug-ins out there? Click here to find out how you can fix that problem.