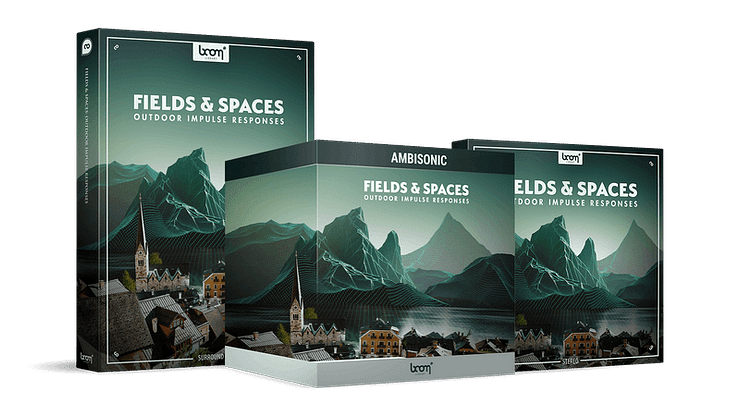 FIELDS & SPACES: OUTDOOR IMPULSE RESPONSES

Adding realism to your sound
---
We're excited to announce a new product that just about every sound designer working on film and games will find incredibly useful. FIELDS & SPACES: OUTDOOR IMPULSE RESPONSES is a high-quality collection, with a diversity and spatial resolution unmatched in the industry.
Outdoor impulse responses are extraordinarily difficult to capture. Our sound designers spent years of research figuring out how to develop a modeling tool that would accurately portray the reflections for broad and wide spaces. And now we're proud to say it's ready for you.
WHAT ARE IMPULSE RESPONSES?
To put it simply, an impulse response is used as a stand-in for a natural reverb. More technically, it's a measurement of how a system or space responds to a very short sound or spike, a direct impulse that can then be used in a convolution reverb plugin to recreate the acoustic characteristics of a place.
For example, due to recording constraints, it might not be possible to capture something on-location, or preferable even, with the freedoms that a modern studio provides. But you still need to apply a reverb that mimics the natural sound echoes of the location of the scene. Not having the right reverb makes it all too evident the recording was done in the studio.
Normally this is done by creating an impulse response. You go to the location needed, make a loud sound (impulse or sweep) and record the effects (the response). Take that impulse response and convolve it with an audio signal, that is, by putting it into your convolution reverb plugin. Bingo, your sound now sounds as if it were recorded on location.
But for some locations, it's simply too hard to do this. If the location is too big, you'd need an outrageously loud sound. If it's in the middle of areas that are constantly crowded, like public squares – there's simply too much interference. That's why we decided to do the time consuming work on the details to model those locations for you (and for ourselves).
Just a few of the locations we've modeled
FIELDS & SPACES
"FIELDS & SPACES is the result of years of careful research into how sound behaves in different outdoor settings," Axel Rohrbach, co-founder and sound designer at BOOM Library says. "We wanted to give sound designers a highly versatile and diverse set of outdoor impulse responses for the most-used scenarios. We did this by modeling the acoustic properties of different places so that audiences could have a more immersive experience."
HOW TO USE IT
FIELDS & SPACES will work with any convolution reverb plugin which can import or load custom IRs. Just load it up and you're ready to go. It cannot be used without a reverb plugin.
The accuracy of the IRs in FIELDS & SPACES: OUTDOOR IMPULSE RESPONSES is unmatched, and its versatility makes it an invaluable tool for any project that requires realistic outdoor sounds.
For the first two weeks of release, we're offering an introductory 20% off sale too! So get it on discount while you can and be ready to make your project go BOOM! Click here to learn more about our new library.
Make sure to order FIELDS & SPACES by May 2 to save 20% with our introductory offer!
WHAT OUR CLIENTS THINK ABOUT
MONSTERS & BEASTS