Thank you all for a wonderful year 2016!
We've had awesome SFX library releases, we received so many kind words and so much cool credits from our clients, our Facebook page received so many nice comments and posts with pictures and videos from our community and we had a great SFX Advent Calendar. It was just fun with you! Today we will open up all recent 23 advent specials so you can check what you have missed (especially the raffles were great this year with so many cool prices), read the tips, get the discounts. Simply click here to get to day 1 and then skip through the pages via the "next day" and "previous day" links.
As a special gift for today, we have some new FREE SFX for you!
FREE BOOM LIBRARY JU52 SFX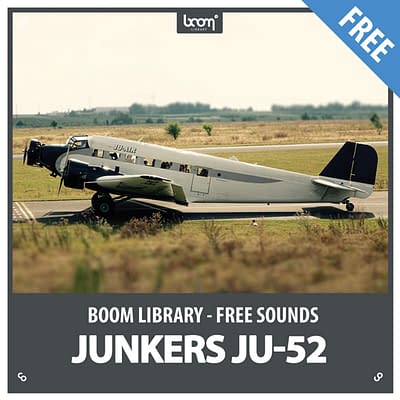 The old iron-bird impresses through its three nine-cylinder radial engine. Its beautiful old-timer charme transforms aviation to a time travel above fields, meadows and cities. The classy radial engine creates a massive and vibrant roar and thus impressive sound effects.
The prop plane was built in 1936 at the Junker's factory in Dessau (Germany). It is also called an old-fashioned Lady and she got a really loud and fascinating sound. The JU-52 SFX Library is recorded, designed and delivered in 96 kHz, 24-bit and has 25 files for you guys to create your own prop plane sound. Enjoy!
Make sure to download the JU-52 SFX Library until the 26th of December!
Video
We are looking forward to 2017 which is going to be great. We have some fresh new SFX libraries in the pipeline that you'll love to use, we promise! Stay tuned for BOOM LIBRARY SFX in 2017, Merry Christmas and enjoy the holidays.
Your BOOM Library 🙂