AUTOMATED BIRD NOISE REMOVAL
DEBIRD automatically recognizes bird noises in your recordings and removes them with surgical precision.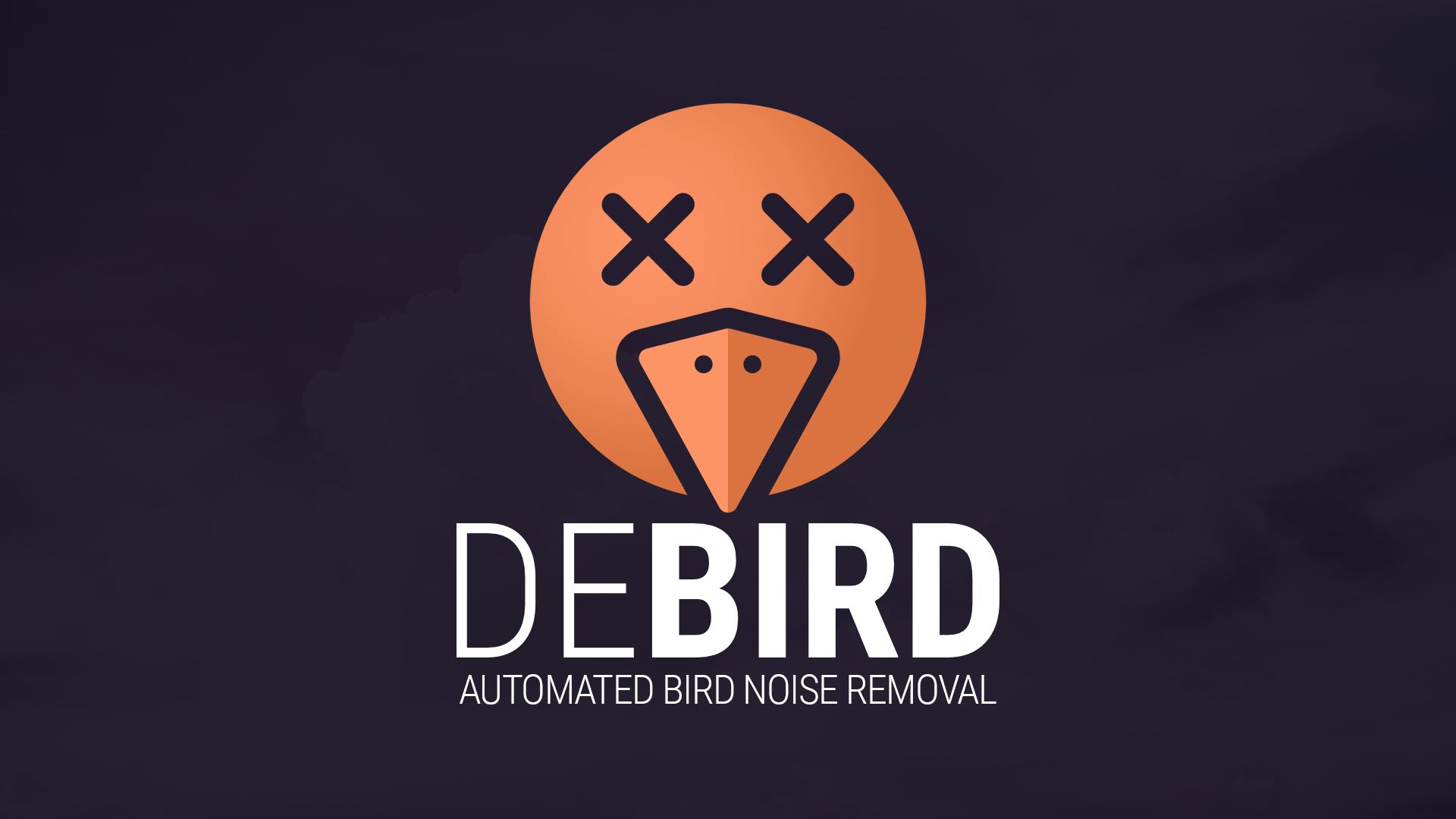 The Problem
Meet the involuntary #1 enemy of recordists and editors alike: Birds.
While their lively and delightful song is a true asset in nature ambiences, it ruins just about everything else.
As a result, countless hours are spent on the rather tedious task of cleaning recordings before one can get back to the fun part and focus on the creative process.
THE SOLUTION
1
Drag any sound into DEBIRD. It is analyzed automatically.
2
Hit Play. Enjoy your de-birded recording!
You can see the removed bird sounds in the lower spectrum display.
3
Simply export the cleaned sound.
That's It?
Yes! It is really that simple. You need some more features? You can also do the following:
Would you like to keep certain sounds that would otherwise be removed?
No problem! Grab a boundary box or brush and show DEBIRD what to keep.
Solo and export the extracted bird sounds if needed.
DEBIRD can be used in the exact opposite way it was designed for.
Timesaver
DEBIRD turns hours of work into seconds.
Fast Processing
No matter how fast you remove bird sounds, DEBIRD is faster.
Cut the Slack
No more need to plan recording sessions at night or use invasive methods such as scaring off birds.
FIRST REACTIONS
"Whoah! DEBIRD is game-changer! 
BOOM continues to knock it out of the park… I can't even come up with any more sports metaphors, I'm so excited! Can't wait to hear what's next!"
– Zachary Quarles (Principle Audio Designer, Playground Games)
"NEEEED"
•
"THIS WILL BE A LIFE SAVER FOR MANY"
•
"IT'S A GAME CHANGER FOR POST & FIELD RECORDING"
•
"OH MY GOD. GENIUS"
•
"THIS TOOL IS A BLESSING!"
DeBird At A Glance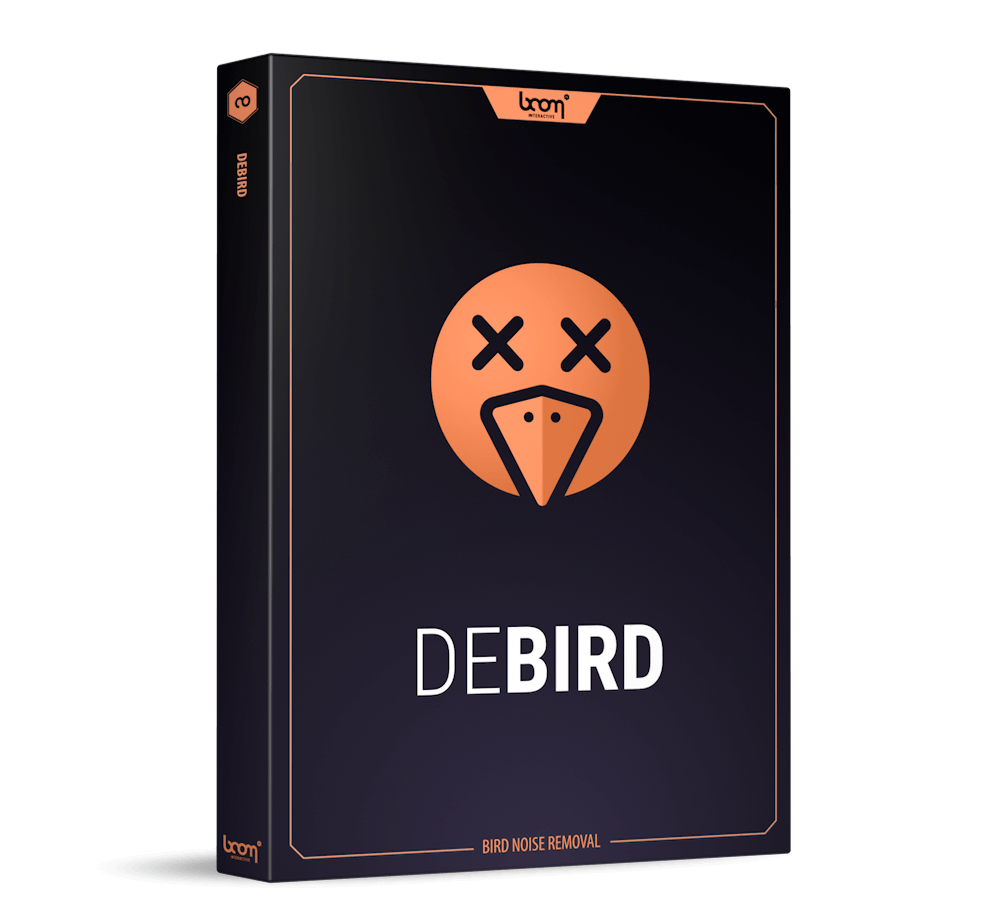 KEY FEATURES
Remove bird noises with a single click
Radically simplify and expedite your workflow
Super-fast loading and processing of audio files
The advanced Machine Learning algorithm guarantees the most precise removal of bird sounds without audible loss of the desired sound frequencies.
Mark bird sounds you want to keep to exclude them from the removal process.
Isolate and solo out the bird sounds, if desired.
Non-destructive workflow. DEBIRD never overwrites your existing source file.
DEBIRD keeps learning on the job and will improve over time.
DEBIRD requires a free iLok account (click to learn more)
Help us to improve DEBIRD
DEBIRD works with a neural network that further improves the more input it gets. We will continuously feed the deep learning algorithm with recordings of birds to improve the results and to better handle edge-cases.
What you can do
You have a file and DEBIRD struggles to properly remove the bird sounds? Contact us and send us your audio file. We will include it into the machine learning routine and DEBIRD will handle such cases better over time.

NKS-READY
Control Enforcer's parameters with supported KONTROL and MACHINE hardware from Native Instruments and load presets directly via the Komplete Kontrol preset browser.
Requirements
Software
DEBIRD works as a standalone application without a host DAW or NLE.

System
| | |
| --- | --- |
| Windows | Windows 7 (64-bit), 8 GB RAM, Intel® Core i5 |
| Mac | Mac OS X 10.11, 8 GB RAM, Intel® Core i5 |
iLok
Available licensing options:
Machine License activation and USB Dongle What is iLok? (click to learn more)

Latest Version: 1.0.3 (January 2020)

Improved export functionality
Version 1.0.3 (January 2020)
[IMPROVEMENT]
Metadata including Soundminer Metadata will now be kept on export
[BUG-FIX]
We fixed a bug where DEBIRD could crash on export of 192kHz multichannel (more than two) files
Version 1.0.1 (December 2019)
[IMPROVEMENT]
BWav Metadata will be kept on export (we are still working on Soundminer Metadata)
[IMPROVEMENT]
Windows ASIO Driver support
Version 1.0.0 (December 2019)
Initial Release