BOOM ONE UPDATE

Creature sounds & nature ambiences
---
Nature comes alive in BOOM ONE's latest update. The collection includes animal vocal sounds, nature ambiences and more, with crisp quality ready to inspire your creativity and set the perfect scene. Whether you need forest ambiences, detailed river and cliffside & creek water ambiences, African nature ambiences or more, we've got sounds that will inspire and fill out your soundscapes of your scenes. There are also 408 creature sound files composed of super detailed humanoid creature vocals, snarls, growls, barks, howls, screams, and much more, with some female creature sounds too. On top there's creature source sounds like kazoos, pneumatic air sounds, crow pipes, clicks and more – perfect for all your creature design needs. Last but not least are 67 additional files with high-quality fire crackles, wet noodle sounds with plunger (for gore), source sounds for heartbeats and more. 
The nature ambiences transport your listeners to places and wildlife-rich rivers and waterholes. There are 162 files with rich nature ambiences that capture all the subtle details with the full range of frequencies in each environment. The end result is a download of immersive nature backgrounds perfect for any project.  
For the creature sounds, we talked to our recordist Jannik Hähn about some of the creative techniques he used to create creature sounds. The 408 creature sounds he included were humanoid creature vocals like snarls, barks, screams, howls, hisses, spits and more. He opted for a Sanken CO-100K and a Sanken CMS-50 Stereo MS microphone for most of his sounds. The Sanken CO-100K is generally his go-to mic for creature-related recordings, vocals, and props, because the 192 kHz sample rate gives him an incredibly large margin when it comes to pitch-shifting and time stretching, allowing him to get really creative on designing his effects. 
RECORDING THE VOCALS
Jannik needed to produce a vast amount of source material for creature sounds for the upload. He set about collecting props and figuring out just how to create engaging creature sounds, so decided to use capuchin monkey and gorilla sounds as inspiration. As an experienced voice actor in creature design, Jannik decided to take it on himself, mastering a variety of screeches and howls.   
He had a very interesting process. Since gorillas make much deeper sounds than humans are capable of, he took recordings and raised the speed (thereby raising the pitch). He did just the capuchin monkeys, which are naturally higher pitched than human voices. "I had to do some pretty long screams for those," Jannik says, "so that those sounds still have a decent length later when they're sped up during the design process." 
When he was ready to record, he placed the mic about 15-20 centimeters away from his mouth and directed at his chest. "That way, I can reduce the amount of unwanted mouth sounds and the sound in general feels more balanced and round," Jannik shares. "If the vocal creates some kind of air movement, I like to position myself slightly diagonal to the mic so that the air flow doesn't directly hit the microphone, which could result in unwanted rumble or noise."  
CUING IN THE OTHER SOUNDS
To design proper creature sounds, you've got a whole load of other noises that you need other than just the vibrating mucous membranes of the larynx. You've got lip pops, cheek smacks, spit gurgles, guttural sounds, spluttery ululations, and so on. For this, "I love to work with slime," Jannik relates. "You can use all kinds of objects to create bubbles and weird tonal sounds with changing resonances while the slime is moving. It's almost as if the slime itself is alive."  
"Creature vocals are always a lot of fun for me," Jannik continued. "Doing all kinds of nasty sounds and screaming your soul out in a recording booth is something really relieving."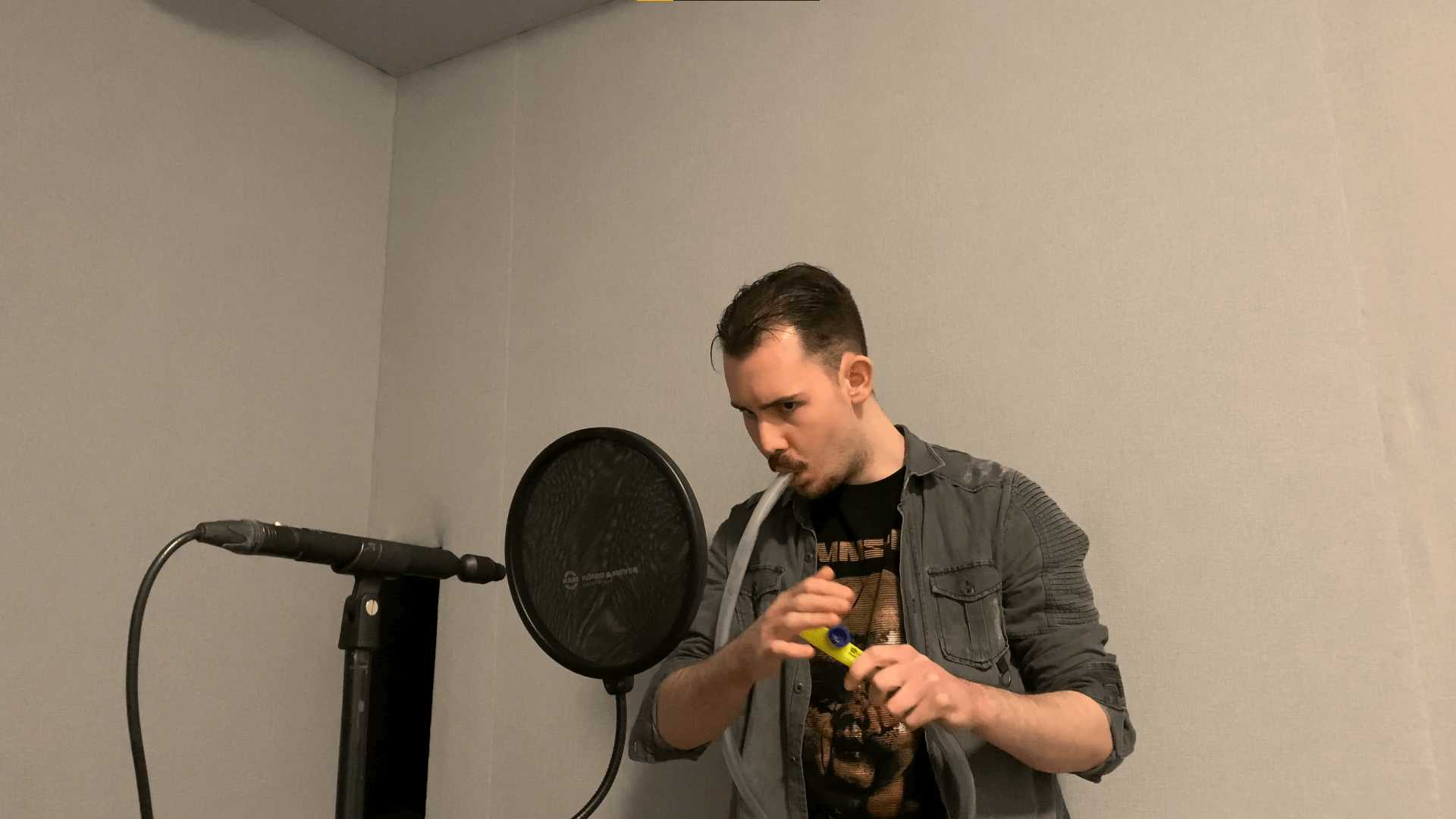 GATHERING THE PROPS
To get the slime and other gadgets, he browsed on the web and hit construction stores, to find random odds and ends that can be used in creative sound-design-y ways. "There are a lot of cheap props, especially stuff that kids could play with like kazoos, pop tubes, or slime. Music stores often have simple things such as mouth pieces, pipes, or whistles. And of course, asking friends if they've got anything that produces odd or weird sounds."  
As Jannik creates and shares what he does, his enthusiasm only grows. "I've got a strange love for clicking sounds," he continues. "For example, rubbing a small ruler over a plastic comb. Those sounds always remind me of insects or some kind of insectoid alien. Hard to say why but a good clicking sound gives me goosebumps." 
ENDLESS FASCINATION
Jannik is endlessly inspired by sound design and the audio realms that he can create using diverse methods. His favorite aspect of the art is creating all the noises made by creatures, both real and imaginary. You can definitely sense this in the work he did for this latest BOOM ONE upload. "The sound of creatures in the media basically sparked my interest in sound design," Jannik said.  
"To me, it's a very fascinating blend between technical and creative processes," he goes on. "You can bring creatures to life and create emotional responses with your sound design. Overall, I take great delight in the complete process, starting right from the source recordings to the eventual final design process. Therefore, every step and building block for creature sound design includes something satisfying for me." 
GET BOOM ONE
We hope you will add these new high-quality sound effects to your collection. For BOOM ONE subscribers, the new collection is available to you now. If you're not yet a subscriber, join today to get instant access to this collection plus our full library of over 40,000 wave files. We're always recording and designing new sounds, so join the BOOM ONE community today!
WHAT OUR CLIENTS THINK ABOUT
MONSTERS & BEASTS