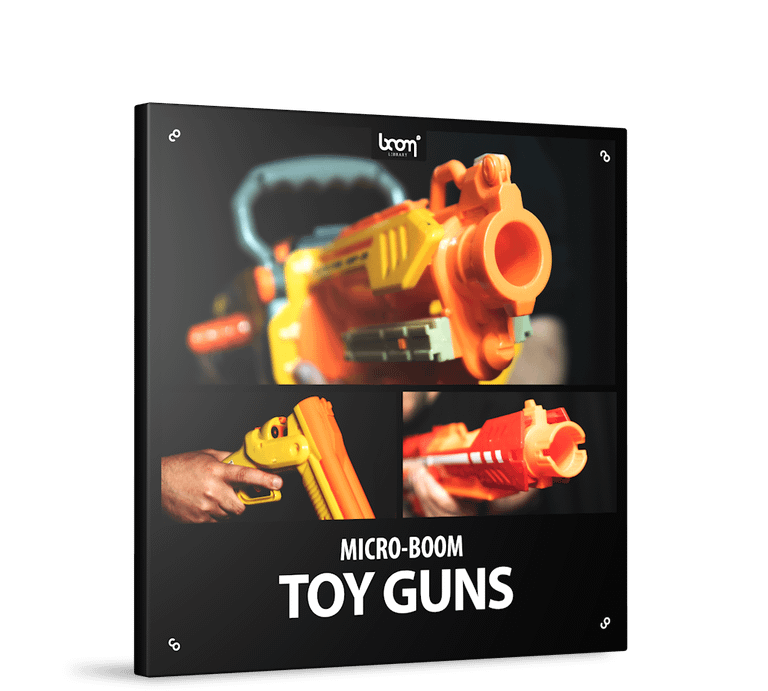 GRAB, SHOOT, RELOAD AND MORE
---
You never know when you need a toy gun sound until it's too late. Time and again, our video and game sound designers have to mine our sound libraries for just the right CLUNK or BONK, often with no success. And so, when we were recording CYBER WEAPONS and used a few toys for our audio exploration, we decided enough was enough. It was time to delve into the world of toy guns and create a proper, exclusive, BOOM Library quality collection.
London, UK based Jack Webber and David Philipp were the two driving forces behind TOY GUNS. David is the the co-founder of The Noiseworks as well as one of our top sound designers. His work includes countless game productions like Dreams, Control and the Total War Series, various trailers for AAA productions and BOOM Library recordings/designs since the very start. Jack has been playing an important part at Noiseworks since 2018 and has been instrumental in many game productions as Maneater, Total War: Warhammer 3 and Last Year: The Nightmare as well as playing a major part in many of BOOM Library's releases of the last years.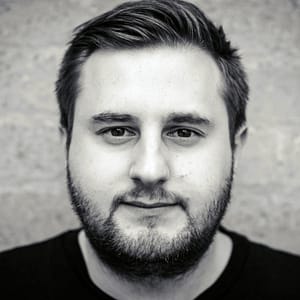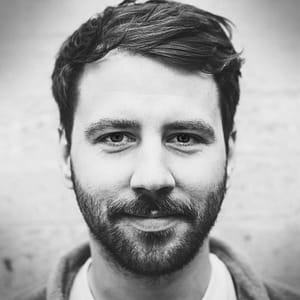 We caught up with Jack and David to ask them a few questions about the library.
What are the sounds behind TOY GUNS?
David: We did a bit of online research and came across someone who had a pretty substantial collection of old toy guns they were looking to get rid of. After purchasing said collection we instantly started recording and experimenting with the props. We ended up choosing around 20 different guns of different shapes and sizes, with some also having motorized shooting mechanisms.
Where did you record it?
Jack: Thankfully we were able to record it all in the studio. This made the editing process a lot easier as we didn't have to deal with any uncontrollable outdoor noises such as traffic, planes, and birds. It did also give us the opportunity to experiment a bit more with our microphone choices.
What equipment did you use to record it?
Jack: We experimented a little with the microphone setup for this library. For the first test recording, we used two Sennheiser MKH8040's, a Sanken CO-100K, a pair of LOM USI's, a shotgun mic, and a contact mic. However, after the initial recording session, we found that the contact mic didn't really add anything. During the editing process, we assessed the microphone choices and found the best sounding combination being the 8040s and the Sanken C100K. The MKH8040s are just solid all-round microphones with a great low and high-end frequency response. However, they can get a little noisy at the very top end range and don't go as high as the CO-100K, so we ended up mixing a little bit of that in as well for optimum pitchability.
What was recorded?
David: An initial test recording session allowed us to play around with these toy guns and manipulate them in different ways to see what useful sounds we could get out of the guns. We then began writing up a concept for the library and made a pretty strict list of performances to follow whilst we recorded. This ended up including reloads, movements, grabs, creaks, mag inserts, shots, and other miscellaneous switches and catches.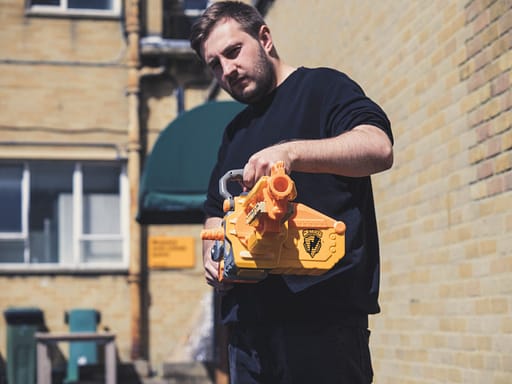 What were some challenges? Any entertaining anecdotes?
Jack: The main challenge we faced with this library was trying to get all the different moves we wanted out of the guns. The guns came in completely different shapes and sizes and worked in completely different ways. That meant it was sometimes very tricky to record things like movements and creaks, especially some of the smaller guns that didn't have much of a sound. The other issue with following a strict list is that it doesn't leave much room for experimentation. So we ended up adding a mag and misc category to the library for guns that had characteristics we wanted to record that weren't included in the initial performance list.
David: It was also way too tempting to mess around with our "recording props" and we ended up having a huge Nerf Gun war in the studio which ended up wasting a good few hours (including cleaning up all the projectiles..). Luckily no microphones or recordings were harmed in the process and we ended up with a great collection of recordings.
What was your favorite thing about recording this library?
Jack: Our favorite thing about recording this library was just being able to play around with a load of toy guns. There's just something about shooting and reloading these which feels quite nostalgic and badass. Also being able to listen back to the library once it was completed and reliving the nice and clunky sounds was very satisfying.