The sound design team at CREATIVE ASSEMBLY – where BOOM Library sound designer David Philipp is part of – won the international MASA Award 2016 for their sound design in the trailer for TOTAL WAR: WARHAMMER. David talks about his experiences and tells us what the international MASA award means to him.
Game trailers arouse more and more attention these days and that´s a good thing. Video game producers don´t just sell a game – they sometimes create a whole new universe and a good trailer is the entry point for many players.
The Music and Sound Award holds two competitions: The MASA UK award and the international MASA award. It is the worlds first and only global award programm to cherish and celebrate the indispensable role that music and sound design play in the international media. After BOOM sound designer David Philipp and his team over at CREATIVE ASSEMBLY Ltd. won the MASA UK award – they also grabbed the international MASA award in the category BEST SOUND DESIGN: TRAILERS + PROMOS with the TOTAL WAR: WARHAMMER release trailer.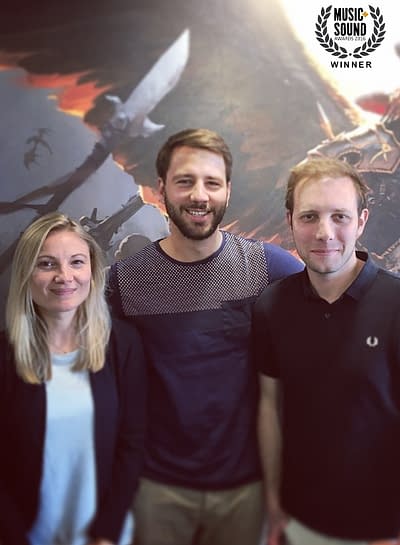 The winning team (FLTR): Rosalie Wilson/Senior Dialogue Engineer • David Philipp/Senior Sound Designer (also a BOOM Library Sound Designer) • Byron Bullock/Senior Sound Designer • missing Matt McCamley
The awards are open to anyone who worked on the creation, composition, licensing, briefing or production of music and sound design for visual media broadcast. We're delighted for David! It is a pleasure to hear that our crew member has achieved such a success with his project and his passion for truly great sound design. He tells us how he went through this exciting time:
"It means a lot to me and also to the whole team. We have worked very hard on that trailer and it's great to see that our team effort really paid off. We loved to win the UK one in the first place, but to also bag the international MASA is clearly the icing on the cake. I think it's good to see that game trailers can compete with movie trailers and other advertisements when it comes down to a jury to judge it. I mean, we all know that games (and subsequently their trailers) get more and more attention these days, but it's still great to see when it's acknowledged at awards like the MASA.
It was a very good team effort, the result speaks for itself. It was also rather difficult at times as the visuals were developed while we were already working on the audio, so we had to adapt quite a few sounds at the very end of the project. Time pressure also was a factor which we had to deal with, but the whole team coped with it very well and – not to forget – it's always a great help to have various first-class BOOM Library Construction Kits at hand, which just blend in nicely to everything we craft ourselves and additionally help with fast approaching deadlines.
The challenges were definitely the ever evolving visuals until the final day as our directors really wanted it to look as good as possible, and we on the other hand wanted to make it sound incredible to. Therefore we put a lot of pressure on ourselves and had to go the extra mile to deliver everything on time.
Obviously we were always hoping but we didn't think we would actually win the international award after being honoured with the UK one just a few months ago. The competition was also very strong again. It's always nice to work on a visually stunning trailer like this one. I especially enjoyed designing the creature sounds as they are the same ones which had to be designed in large quantities for the final game." – David Philipp
Once again we will show you this incredible and awarded trailer! Congratulations to David and his whole team over at CREATIVE ASSEMBLY Ltd. for winning the international Music and Sound Award.
Can you hear some BOOM sounds within the trailer? The CREATURES CK , BLACK POWDER and HISTORICAL FIREARMS libraries were used in the TOTAL WAR: WARHAMMER release trailer. If you want to support your project with some BOOM sounds – just take a look at our products. We're sure you'll find what you are looking for 🙂