One of the biggest passions of a sound designer is to go out, grab the recorder and the microphone and record the noises of our surrounding. We are always excited to go on field recording trips and record new and fascinating sounds regarding from car crashes to beautiful birds' twittering or whatever comes to our mind to create new BOOM sound FX. But to make a recording trip effective you have to pack a lot of things in your recording bag. Today Axel gives you exclusive insights in the world of BOOM Library field recording and shows you what we use to make our trip successful:
On a regular basis I get the question which equipment we use, why we use it and what I would recommend to add to the armoury to either start with or upgrade a certain equipment. So I thought it might be interesting for some of you to get a brief insight what we use.
RECORDERS: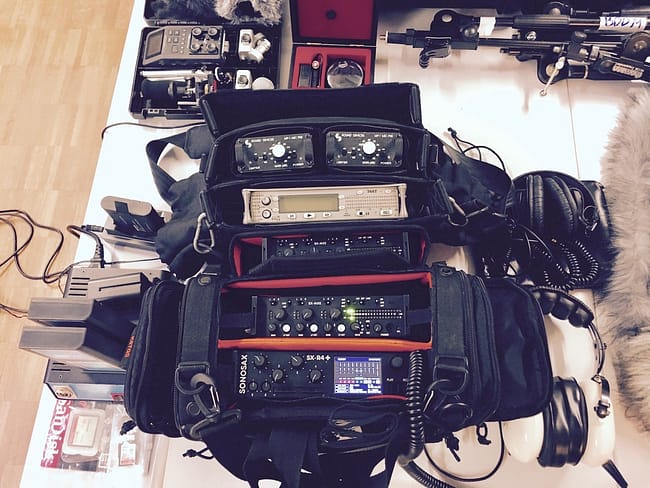 We do have several recorders, ranging from hand held devices to multichannel recorders. We for example use a Zoom H4n and a Sony PCM100 as pocket devices or to simply add more channels at rather experimental spots on a multitrack recording. They are easy to setup, quickly powered up and ready in most situations. For main recorders we use Sound Devices 744T if necessary combined with two Sound Devices MP-1 preamps. This pack companied us for nearly ten years and most recordings you hear in our libraries are recorded with this two to four channel setup. It is reliable and it does sound good. We just recently added a new main recorder which today is my go to sound capturer. This is the Sonosax R4+, a 16 track four mic preamp recorder (we did an extensive review / test which you can find here:
Adding two Sonosax M32 via AES/EBU this adds up to 10 mic preamps. A rather small setup for that track count. I specifically like the R4+ because of the tonal quality and the flexibility this small and light weight recorder offers concerning adding channels digitally.
As for powering we have internal batteries for all recorders (at least two sets) plus two Hawk-Woods NP-70 batterie packs feeding the 744T and / or the R4+ via Hirose.
We mostly use Sony MDR-7506 headphones to listen back during the session.
MICROPHONES: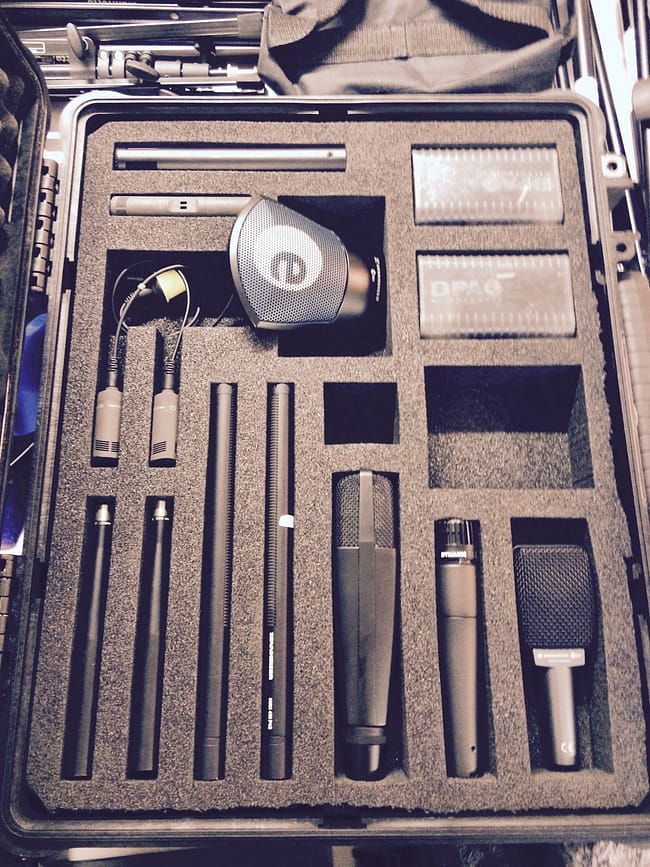 I think I will do a list here, it simply is too many…
Those above are the mics we use the most. They are with us all the time when we are out in the field in one or another configuration. Some additions in our arsenal:
WIND PROTECTION:
I can shorten this a bit: we mostly use Rycote wind protection,The mono windshield (which we also use in stereo for MS setups), the big stereo windshield, a Baby Ball Gag for MKH8040 XY and one medium Cyclone. For the handhelds we use Rycotes handheld kits. If nothing else is available we are creative by using simple te
xtiles, cleaning gloves etc with mixed results but less wind noise. One thing I came across only last year are the rather inexpensive Super Softies. Those do not have the same wind protection as the larger blimps + windshields, but they do an awesome bang for the bug and are super easy to set up. Especially on larger sessions and a lot of DIY experiments I don't want to miss those anymore.
[TEST RYCOTE HANDHELD KIT Advent Calendar 2015]
ACCESSORIES:
Microphone Stands: We have a bunch of different microphone stands. The one that we use most often is the Manfrotto Nano Stand 5001B. It only weighs 930g and can be folded to a pretty small footprint. We have six of those. We mainly use custom made cables made by Grimm Audio up to medium distances. For long distances we do have two 8 channels multicores on rolls, used mainly for backup. We also have some 5- and 7-pole cables for Blimp use of stereo or double MS setups, made by Gruppe 3 in Munich, Germany. Other things we mostly bring I don't know the exact name of are of course duct tape, cable ties, hearing protection, multitools. Depending on the recording, we mostly bring blankets and sometimes safety vests and gloves (we have simply gloves to keep the hands warm, some standard construction side gloves for basic protection and cut protective gloves for work with glass).
Definitely something that helps on larger and longer sessions is a camping table and foldable chairs we have bought not long ago after sitting days in the grass.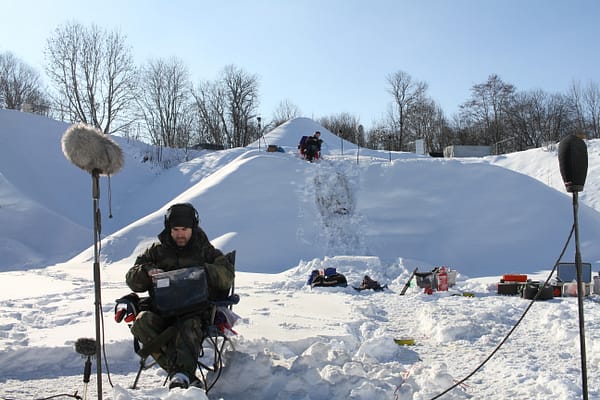 That is kind of it. We constantly are on the lookout for things to add, to change, to improve. But as we all know: we do have a cost intense hobby – uh – job! So we think this setup provides the quality, handling and reliability we need and if special request pop up now and then, we also rent things we might miss for those specific sessions.