MODERN AMBIENCES READY TO USE
URBAN & SUBURBAN is packed with varied ambient recordings of everyday life surrounding modern cities.
What's inside
Included sounds - keywords
urban, suburban, area, mowers, sprinklers, traffic, babble, people, cars, trucks, horns, sirens, light traffic, traffic echoes, train horns, traffic roars, electricity crackles, emergency vehicle sirens, car passes, cobblestones, celebratory car horns, car horns and shouts, shuttle bus, luggage wheels, footsteps, airport interior ambiences, security announcements, chair movements, food circus, TSA security checkpoints, train station entrances, toll stations, coin tosses, underground, rumbling, arrival, departure, backgrounds, trains, park morning, park day, sidewalk, cathedral bells, crowded indoor spaces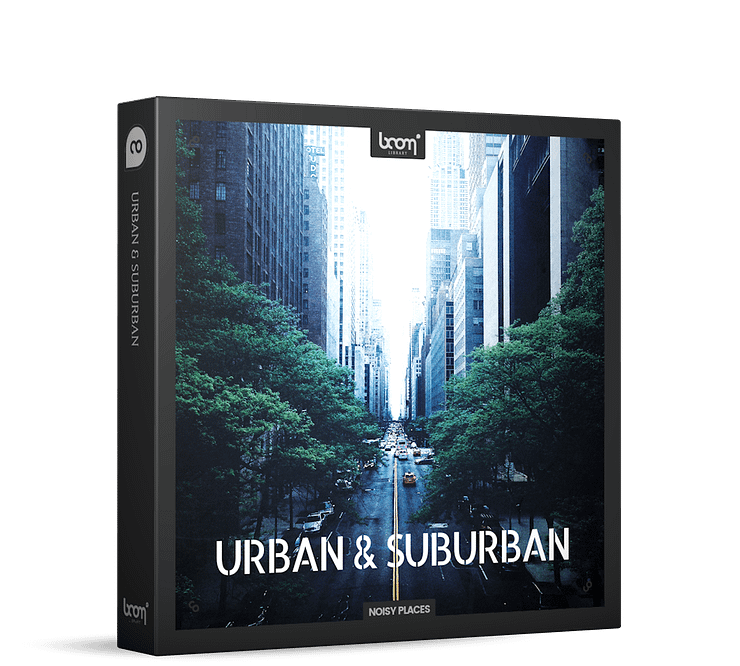 EASY START, HIGH CONTROL
URBAN & SUBURBAN provides a solid foundation for any sound designer to create a believable acoustic backdrop right out of the gate with common ambiences in varying intensities, daytimes and configurations. Easily accessible public places are captured in excellent quality, yet enough balance and distance to support the scene in the background and embed more prominent sounds into the mix.
COMMON vs UNUSUAL
While URBAN & SUBURBAN provides all the necessary basics, it also goes the extra mile by providing more isolated environments as well as recordings of special events that will come in handy when a change of scenery or dramaturgy is required. Various forms of traffic, groups of people, buildings, animals, wind and many more sound sources that make an appearance in this library ensure that you are able to craft an experience complete with the necessary components.
What we recorded
We set out to capture the most common public areas a city and its surroundings has to offer, such as airports, train stations, housing areas, construction sites and more.
For maximum flexibility, we kept the recordings generic enough to be used for similar locations while including variations and isolating sounds that stood out for more fine-tuning.
Compatible Software
BOOM Library sound FX come as WAV files, meaning you can import and work with them in any software that can handle this file type. Here are the most common audio and video editing software tools that work perfectly with our sound FX
Audio Software
Logic Pro
Cubase
Nuendo
Ableton Live
Pro Tools
Reaper
Video Editing Software
Premiere Pro
Final Cut Pro X
After Effects
Vegas Pro
Media Composer
Rich Metadata Embedded
To provide you with the fastest and easiest workflow possible, all files contain extensive metadata like file description & keywords to quickly find the sounds you're looking for. Metadata can be read and processed by audio management tools. Some digital audio workstations feature an included search tool that can also read embedded metadata. Here are the most common audio management tools:
Soundminer
Basehead
Soundly