The immersive sound of Europe's rural areas
Pristine 3D Surround Ambiences of Small Towns, Villages and Suburbs
Countryside
& Campgrounds
European Life – 3D Surround Ambiences
We wandered the European countryside to capture the unique flavors of the different small towns, villages, and suburbs.
Now Europe can be enjoyed from farmstead to cottage with this ambient sound effects collection that encompasses all the rural sound palettes from the North Sea to the Mediterranean. The sounds provide genuine atmospheres for each setting without any distractions in the foreground; perfect, countryside soundscapes for authentic audio layers in your production.
Varying from calm restaurants to small town cafes, rivers and creeks to traffic and streets, EUROPEAN LIFE contains an entire sonic palette of the European rural life. Recorded in 3D, you can choose the exact listening angle or use the stereo version (also included). EUROPEAN LIFE makes for an excellent addition to our TOWN & COUNTRY collection to broaden the agrarian scope, or as a companion to URBAN EUROPE to round out the sounds of the European continent.
What's inside
Included sounds - keywords
Alleyway, Backyard, Bark, Barn, Bay, Bicycles, Birds, Boat, Bushes, Camping, Church, City, Cliffs, Construction, Crickets, Farm, Ferry, Fireworks, Footsteps, Gardening, Harbor, Honk, Kids, Market, Mooing, Nature, Neighborhood, Park, Pedestrians, Pier, Rain, Restaurant, Riverside, Rooster, Seaside, Siren, Suburb, Voices, Walla, Waterfront, Watermill, Wind, Woodlands
A COUNTRYSIDE AMBIENCE
EUROPEAN LIFE offers a large selection of countryside soundscapes, bringing a unique realism to the romantic settings of the rural pastures and villages of the continent. From village squares and the chatting din of small-town cafes to farm life and passing cars, EUROPE'S RURAL AREAS captures the essence of life outside the city.
CAPTURE THE SCENE
Use ambiences from EUROPE'S RURAL AREAS to create accurate sound design, capturing the true emotion and feeling by including the true audio dynamic of the background sounds. Whether your scene is capturing an idyllic moment on a vineyard, or a chase scene along scenic waterfronts to a rural monastery, find the right background sounds on this album.
INCLUDING STEREO VERSION
Not only was EUROPE'S RURAL AREAS recorded in 3D SURROUND, but a stereo version is also included in your purchase of 3DS for your convenience. Instantly use any of these authentic rural sounds for any project that doesn't require the depth of 3D.
YOU ONLY NEED THIS LIBRARY IN STEREO? VOILÀ!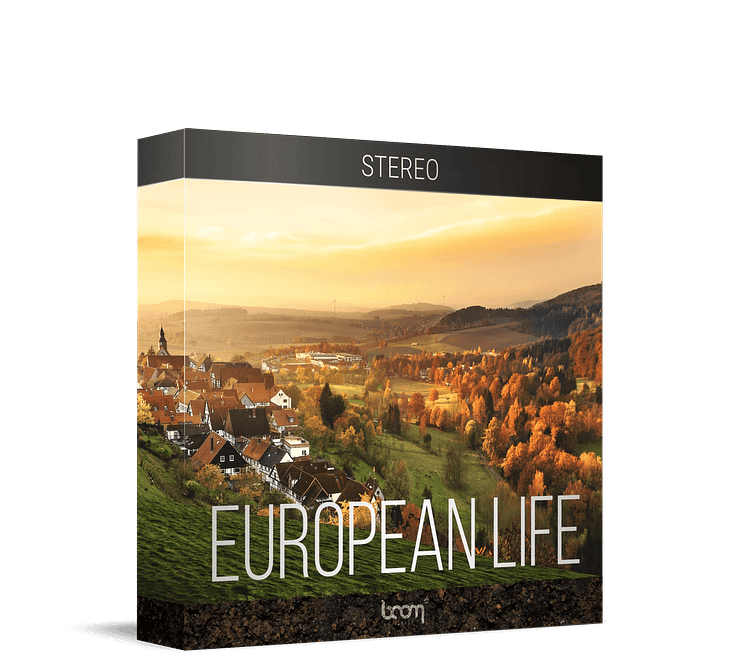 SAME QUALITY, SAME CONTENT
You don't want to miss the excellent EUROPEAN LIFE source recordings, but don't necessarily require the surround version? We offer the same recordings in the same quality in our stereo version at a lower price.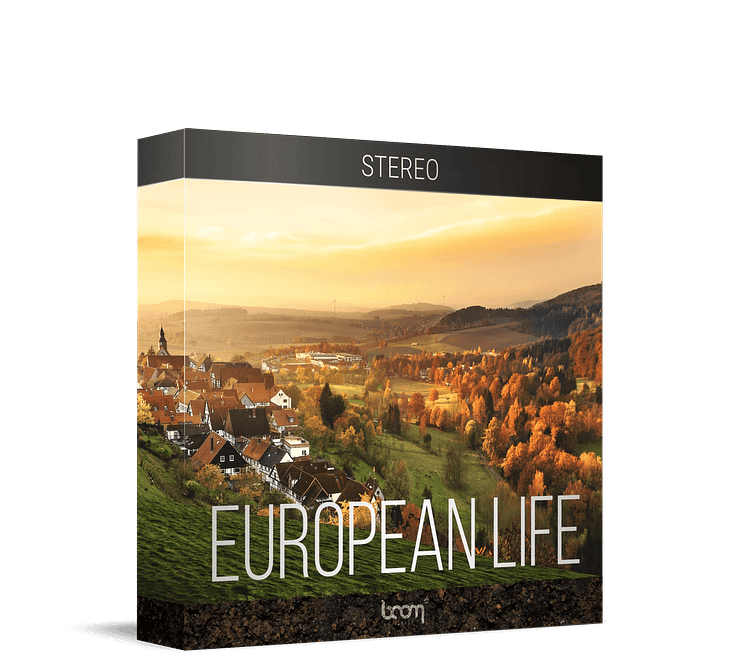 What's so special about this library?
Compatible Software
BOOM Library sound FX come as WAV files. This means you can import and work with them in any software that can handle this file type. Here are the most common audio and video editing software tools that work perfectly with our sound FX
Audio Software
Logic Pro
Cubase
Nuendo
Ableton Live
Pro Tools
Reaper
Video Editing Software
Premiere Pro
Final Cut Pro X
After Effects
Vegas Pro
Media Composer
Rich Metadata Embedded
To provide you with the fastest and easiest workflow possible, all files contain extensive metadata like file description & keywords to quickly find the sounds you're looking for. Metadata can be read and processed by audio management tools. Some digital audio workstations feature an included search tool that can also read embedded metadata. Here are the most common audio management tools:
Soundminer
Basehead
Soundly
According to the new UCS standard

Enter A New Era of Surround Sound FX Libraries
Suitable for any surround application, even and especially immersive audio like Auro 3D, Dolby Atmos, 360° Videos and VR
URBAN EUROPE is the fifth product of our famous new sound effect series 3D SURROUND. It continues a new era of surround sound FX libraries with unprecedented precision, spatial impression and clarity. 3D Surround delivers better results where conventional surround techniques reach their limits. This occurs especially, although not exclusively, in VR, where events must sound 100% convincing depending on the rotation and tilt of the user's head. With our new 3D SURROUND series, you are ideally equipped for not only VR, but any other application that requires high-definition and crystal-clear surround sound. What is so special about 3D Surround?
3D Surround has two enormous advantages over conventional surround sound. On the one hand, individual sound sources can be located much better and more clearly with 3D Surround. On the other hand, 3D Surround also reflects height differences much better. This results in a more extensive and much clearer sound image in a quality that cannot be achieved with conventional surround sound.
HIGH-PRECISION SOUND LOCATION
Conventional surround sound often provides a somewhat diffuse image of the sound source, making it hard to precisely pinpoint the direction where the sound is coming from and where it is moving to. 3D Surround draws a crystal-clear picture of the source recording for a complete sound experience.
THE 3RD DIMENSION – SUITED FOR VR & Dolby Atmos
3D Surround adds a height layer as a third dimension compared to regular surround. The sound not only reaches the listener's ear from the side, but also from above. This results in a much better localization of the sound source and a much more immersive listening experience which makes it the perfect surround type for VR applications and Dolby Atmos.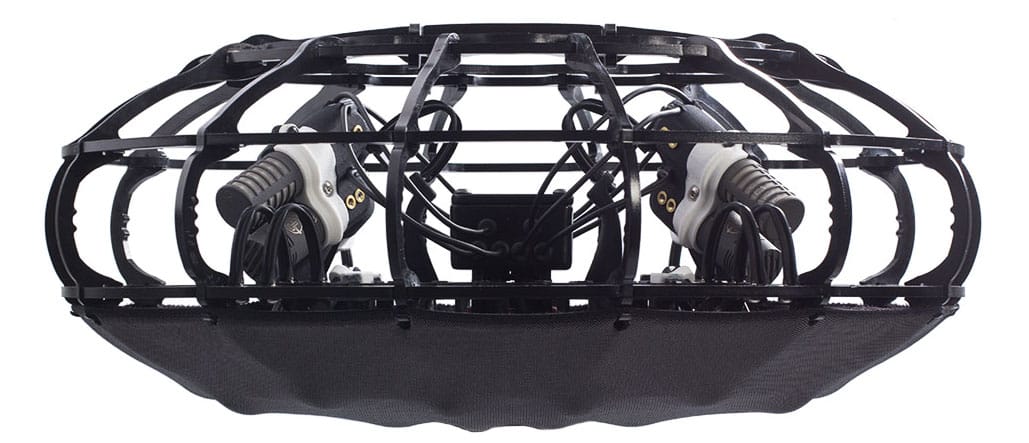 RECORDED WITH THE MOST ADVANCED TECHNOLOGY
Our 3D Surround libraries are recorded with the highly-acclaimed SCHOEPS ORTF-3D setup, a cuboid 8ch level/time difference ambience setup. The main benefit is an additional height layer compared to regular surround recording setups. It consists of 8 supercardioid microphones.

The height layer offers a much wider range of spatial sound effects and a more realistic three-dimensional reproduction. Therefore, it provides a clearer representation of spatial depth, a more natural surround impression, improved envelopment, and an authentic feel.