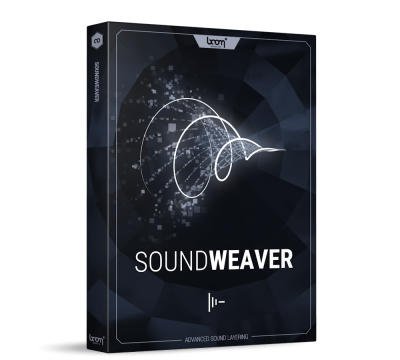 SoundWeaver helps you design new sounds from existing audio material in less time
---
We all know the situation: A client has asked for 100 new sound assets, 10 variations each, delivered as soon as possible. Creating variations in particular requires a lot of meticulous pitching, shifting and switching out elements within your original design. With just a few commands, SoundWeaver will automate all of those time-consuming steps for you and generate as many suggestions as you like – so all that's left for you to do is have a quick listen and keep the ones you like best. Focus on your creative process while SoundWeaver takes care of the rest.
Revive your library • Resurrect forgotten sounds • Skip the busywork
SoundWeaver explores the full depths of your sound library with the help of keywords or folder paths and picks matching sounds for your project. Sounds are automatically sorted, grouped, layered, aligned and split into regions (if files contain multiple variations). Now you can pitch, offset, gain, shuffle and randomize individual sounds, groups or the whole project.
Make sure to order SOUNDWEAVER until February 6th to benefit from our special offer!
WHAT OUR CLIENTS THINK ABOUT
MONSTERS & BEASTS
Freelance Sound Designer & Composer
Working with raw material that sounds fantastic and is meticulously organized are both astonishingly important aspects of my work as a sound designer. Working with sounds I can trust and find easily means that I can focus my time and energy on being creative, and I value that immensely. It doesn't matter if I'm designing sounds for an enormous monster in a dome theater film, a cute mushroom for a pixel art game or an immersive nature ambience for VR - I always find what I need with BOOM Library sounds and I can trust the material completely.
Composer, Music Producer, Sound Designer / Bluetube / www.bluetube.com
I am a big fan of BOOM libraries and own most of what they've put out. I work with Cartoon Network's Adult Swim and have done many of their shows over the years. I've used BOOM's libraries on Aqua Teen Hunger Force, Your Pretty Face Is Going To Hell, 12oz Mouse, Harvey Birdman, and almost exclusively used their car and weapon libraries on a show called Archer, years ago. I'll be starting new shows soon and will be looking to their libraries for a variety of different elements. Working primarily in Animation, I find the need to do a lot of Foley or look to the more obscure sound libraries to help build things that don't always exist in the real world. Libraries like BOOM's Sci Fi, Magic, Fire, Destruction and the different animal libraries are hugely helpful.
In every game I work on, I try to make good use of all the different sounds that my kids make around the house. By layering those sounds with some great BOOM creature source, I can ensure that we have completely unique creatures in our games.
Sound Supervisor / BioWare
Working on MONSTERS & BEASTS with BOOM was a great experience, and we are already planning for the next ones. The source in this library is amazing. It provided us with unique assets that we could then manipulate further to create the sounds of the fantastic beasts in Anthem.
Oscar-Winning Supervising Sound Editor, Re-Recording Mixer
MONSTERS & BEASTS is another great release from Boom. A broad array of sounds to fit any creature feature and all with the punchy low end we know and love from Boom. Being able to access the raw recordings, as always, is fabulous.
ROMA, Deadpool, Alita Battle Angel, Stranger Things, mother!, Black Swan
The Team at Boom Library have done it again with a huge array of sounds for MONSTERS & BEASTS.  The designed sounds are fantastic and the construction kits are inspirational.  One thing I like to do is look for non animal or human sounds that can be shaped into a monster vocal. This kit includes off the beaten track ideas such as an Accordion, Plungers and Styrofoam.  All things that can be twisted and turned into highly original Monsters and Beasts!