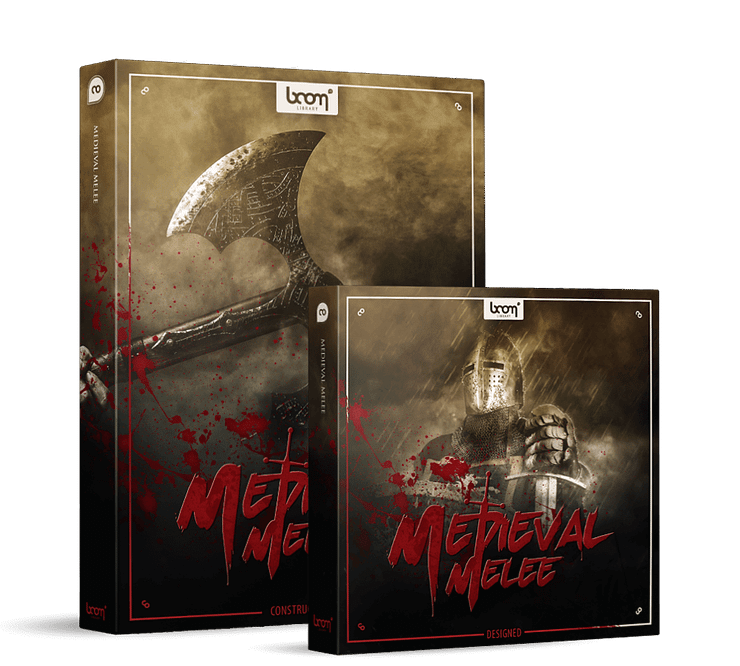 MEDIEVAL MELEE

THE GOREY SOUNDS OF THE MERCILESS MEDIEVAL TIMES
---
The full weight of the war hammer as it bears down is savagely presented in one of BOOM Library's largest-ever sound collections, MEDIEVAL MELEE. The library focuses on the most common close-quarters weapons of the medieval times, from war hammers and swords, to axes and polearms. Recorded on our Sennheiser, Sanken CO-100K and Schoeps mics, it's a level of furiously detailed medieval mayhem that has never been captured to this degree before.
The Middle Ages cover a period of time that is forever in our minds, portrayed in endless stories in both historical and fantasy settings. In movies, in games – it is a kind of high romance that engages the imaginations of people everywhere. For a proper, fully immersed rendition, it's necessary to have the highest-quality sounds to match the visuals. Getting the sounds of medieval weapons can be challenging – for starters, prop swords just don't ring the same.
Our fearless sound designers set upon an epic journey across (modern) Europe in search of a large variety of common medieval weapons. We went to armourers and scrapyards, searching out the best variants and analogues that we could find. The only rule was that we wanted melee weapons – no ranged weapons. The result went into an extensive effects pack that includes whooshes, deflects, impacts, equips/unequips, finishers and more. A sound pack perfect for any studio designing sounds for films or games.
The Construction Kit
With over 19 GB, the Construction Kit is absolutely massive. This makes MEDIEVAL MELEE one of our largest sound effects libraries to date. It's packed with over 900 files and 9000 sounds, which means 10 variations per sound rather than the usual 6. The sounds are intense and in your face, full of huge cinematic sounds. We used various resonators, like cardboard boxes, suitcases, and wooden boxes to make the sound bigger and more in-your-face. But also smaller and more "real" sounding elements that can be readily used in more intimate, close-up scenes of betrayal and death.
The Designed Kit
The idea was to stay grounded in the design of the sounds rather than over-the-top. To create a beefy sound without using too much processing. We also decided to give our sound designers additional freedom in using differently layers to craft different sounds. The Designed Kit was, as usual, prepared with the idea that you wouldn't need to do any more editing to get the right sound. Simply drag and drop into your project.
But we also went a step further, deciding to provide two files for many of the sounds: the body and the tail. This allows you to easily mix the impact and the tail sounds. Say you want the thud of a mace with the ring out of a sword, no problem, use the two separate files and they'll fit together smoothly. It's provides for a kind of unseen before level of creativity for sound designers.
We also delved into the sounds of brutality with our GORE-labeled sounds. These focus on stabs and slices and are perfect to use out-of-the-box in your video games and video projects.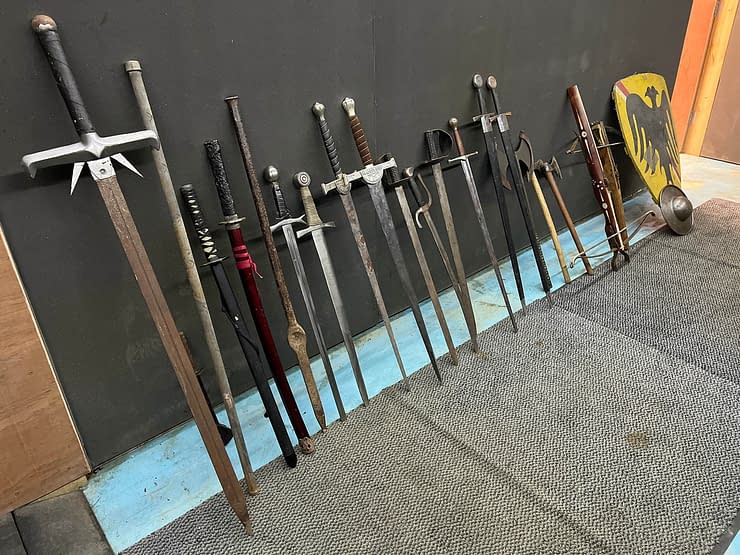 Make sure to order MEDIEVAL MELEE by October 18th to benefit from our special offer!
WHAT OUR CLIENTS THINK ABOUT
MONSTERS & BEASTS