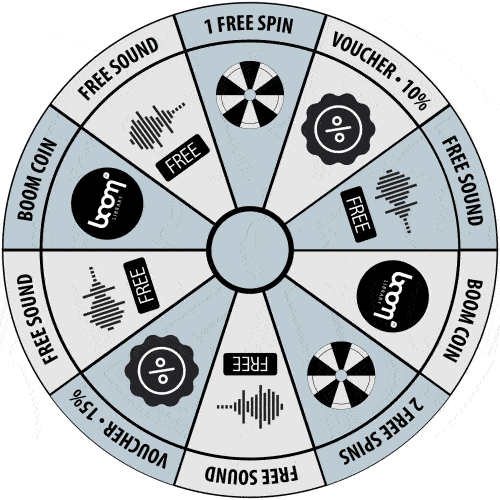 LUCKY WHEEL
WIN FREE SOUNDS & DISCOUNTS,
COLLECT FREE PRODUCTS
---
Come right up and take your chances, BOOM Library's LUCKY WHEEL waits for you! Every spin is a winner and no spinner is left behind.  
When you look at your screen, you might notice a new little wheel at the bottom left. That wheel is BOOM Library's new LUCKY WHEEL! Prizes abound with a just a click of the wheel.  
WHAT CAN YOU WIN?
Start your luck with 5 free spins. With each spin you will certainly win. The results on the wheel are: 
1 free spin 
2 free spins 
Voucher for 10% off 
Voucher for 15% off 
Royalty-free BOOM Library sounds
BOOM Coins
The prizes are fairly self-explanatory, except for the BOOM Coins. Collect 30 BOOM Coins and you can unlock pre-selected free products and e-vouchers. The products will change from time to time, which means you'll be able to win a variety of products throughout the year.  
All free sounds come with a perpetual royalty-free license, just as any purchased sound would. You can't stack vouchers or use them on sale items.  
HOW DO YOU GET SPINS?
There is a myriad of ways to get spins. You start with 5 spins and every day that you log on to your BOOM account you'll get another spin. If you spin 10 days in a row, you'll get 3 extra spins, and for every time you purchase a product (not including free products), you'll get 10 spins. You can, of course, also win more spins on the Lucky Wheel itself.  
Keep track of all your spins and wins in your account dashboard.
Go on then.  
Are you feeling lucky?