Unofficial BOOM Library trailer sound rule #1: "Start your trailer with a really good sound". This Trailer nails it and uses the sound "WHOOSH-HIT_Dont_Poke_With_Me.wav" from our Cinematic Trailers Designed library.
Mike Regan (Pierce Brosnan) has everything that he could ever want: a beautiful family and a top of a line house. In the upcoming thriller directed by John Moore and written by Dan Kay and William Wisher, Mike has to learn not to aggravate an IT technician. The relationship with his closest advisor turns really nasty. I.T. consultant Ed starts using his skills to stalk Mike's daughter and endanger his family, business and his life.
Sound Design for games, commercials, films or trailers can become a very creative process when it has to be recorded by microphones. It is always exciting to see how our sounds were used in the different final products. This time our BOOM Library sound "WHOOSH-HIT_Dont_Poke_With_Me.wav" from our Cinematic Trailers library was used for the very beginning of the trailer.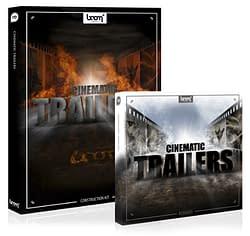 WE ASKED OUR LEAD SOUND DESIGNER AXEL ABOUT HIS PERSONAL WORKFLOW AND THOUGHTS ABOUT "WHOOSH-HIT_Dont_Poke_With_Me.wav":
"It is always funny and surprising to recognize a sound you created while watching something like movies, tv-series or playing a game. In this case I was just watching some current trailers what I do on a regular base and the very first sound was something I created from the "Cinematic Trailer – Construction Kit" for the corresponding "Cinematic Trailers – Designed" library. It is in fact not the only BOOM Library sound in this trailer, but this one is particularly obvious. The trailer looks promising and I will definitely watch the movie sooner or later.
I had some similar stories in mind, while I designed this sound, something that tells a story in which electronic devices are important or even play a major role. There are some electronically sounding zapping elements in it as well as a delay that slows down over time, which results in some kind of "powering off" feel. To create this I used Soundtoys' Crystallizer combined with the Tremolator to achieve the stutter effect. So I think it has been perfectly used to make a clear statement right at the start of the trailer what this might be about. I used a bunch of "Construction Kit" sounds that one would probably not connect with the topic. Those are for example car and bicycle drive bys, wood breaks, hitting cardboards with a flat hand. But those do work and merge together very well in such a highly processed context." – Axel Rohrbach
AUDIO DEMO
Check out the new trailer and don´t miss the beginning 😉
Want to learn more about some BOOM Library sound stuff? Check out our article about our BOOM Library sound "Scream Piercer" used in the Destiny: Rise of Iron Reveal Trailer 2016
Click HERE if you want to read the article.