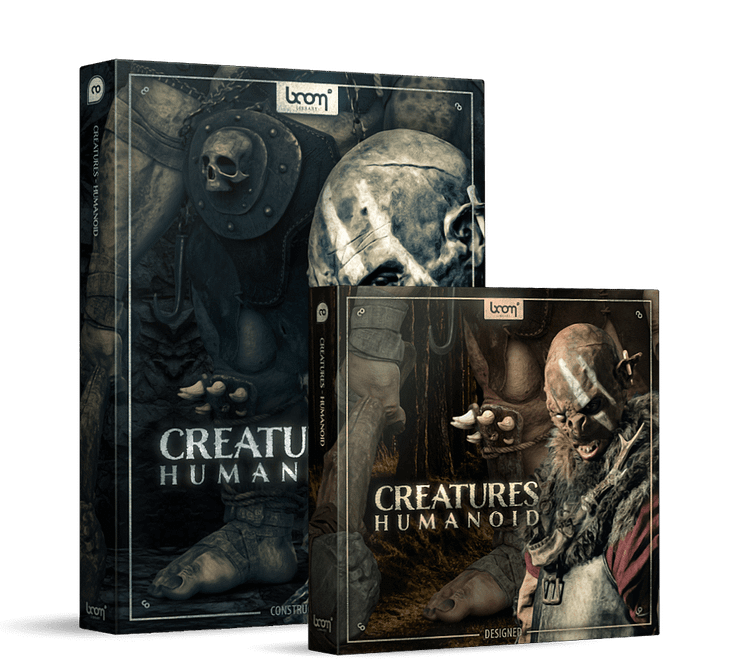 CREATURES HUMANOID

NOT ALL MONSTERS COME ON FOUR LEGS
---
BOOM Library's latest sound collection, CREATURES HUMANOID, focuses on all those grizzly, gnarly sounds from the monsters that walk upright. Full of horrifying screams, bone-rattling growls, and drool-dripping snarls – we know your audiences paid for the whole seats, but with these creature sounds they'll only need the edges for maximum gripping.
Our experienced sound designers are constantly in need of creature sound effects for all their various projects. But designing new, fictional creature sounds is an art of its own and getting convincing and authentic results within a reasonable time frame can be challenging. That's why we came up with the idea to create the perfect sound collection of two-legged creepers. Including a range of monsters from banshees and zombies to orcs and golems, we've covered all ranges of our future needs – and yours too.
The Construction Kit
In the Construction Kit, we've prepared over 22 vocal sets along with some additional files. Our team experimented around to get the most out of our vocalists. Using a range of techniques and materials to capture all the rich and guttural resonances we could, we were waving about and growling into kazoos, PVC pipes, and paper tubes. The PVC pipes were great to gnaw on afterwards to calm down all that pent up sound designer aggression we had from recording this. We even brought out the big guns on this project: We invited in the vocalist from the German metal band The Tex Avery Syndrome to provide some truly harrowing growls.
The Designed Kit
For the Designed set, we twisted and edited the sounds to get identifiable humanoid creature sounds. With these you need no further designing – just drag and drop them into your project. For zombies and goblins, we applied compression, equalization, and saturation. We also toyed around a lot with pitch shifting to make them sound heavier and distorted and capture the essence of zombie sounds from different Hollywood series. With the Ghost and Banshee, we added in reverse reverb and air breaths.
With the reptiloid monster we added in even more details and layers, like clicking sounds and tongue stutters that you might associate with that kind of creature.
We are truly proud of the Golem, Mutant, and Cyclops sounds. They are truly bone rattling and intense. They are very intimidating sounds, reminiscent of our MONSTERS & BEASTS library.
Make sure to order CREATURES HUMANOID by June 14th to benefit from our special offer!
Click HERE to learn more about our new library.
WHAT OUR CLIENTS THINK ABOUT
MONSTERS & BEASTS